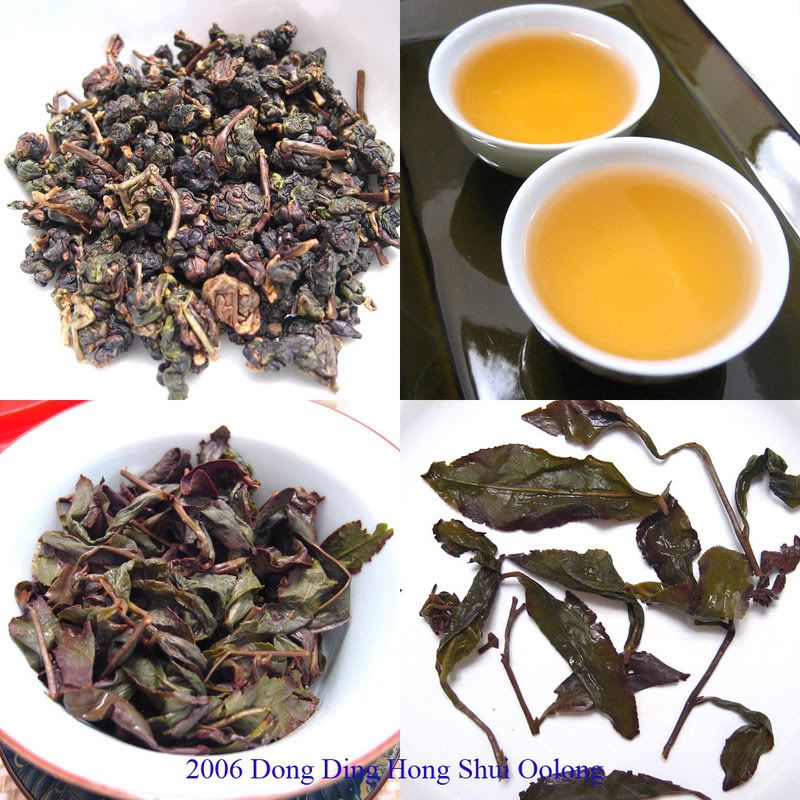 Over the past few days, I tasted on several occasions a traditional type of Taiwanese Dong Ding oolong called 红水 (Hong Shui or Red Water). This style of oolong is more oxidized (~60%) and less roasted than most Dong Ding oolongs commonly found in the marketplace today, or at least where I live in. Apparently, according to the product description [pdf], this is the way Dong Ding oolongs used to be crafted before it later evolved to the less oxidized (~30%) and heavier roasted style that is now widely available.

In response to my inquiry, Guang, the proprietor of Hou De, said "There is a 'retro' trend among Taiwan's tea drinkers recently. And the Hong-Shui oolong is getting more demand than before." His blog also explains the close ties that this Hong Shui style shares with Anxi Tie Guan Yin and Wuyi Yan Cha oolongs: the appellation of Lu Gu in Nantou County, Central Taiwan, inherited Anxi's processing heritage and Wuyi's oolong cultivar, and later also employed Wuyi's processing philosophies, which resulted in the birth of the Hong Shui style.

Compare the dry Hong Shui to the Huang Jin Lan (Golden Orchid) oolong, which is ~25% oxidized and lightly roasted (also in Hou De's inventory).


Tasting Note:
2006 Traditional Dong Ding "Hong Shui" oolong
From Hou De Fine Asian Arts
$12.50 / 2 oz
Green-red, tightly fisted leaves (dry). Leaf pellets open up to wholesome and stalky dark green leaves with heavy streaks of redness due to the oxidation. Brown-red liquor. This is an interesting oolong altogether. It is quite different from the other Dong Ding oolongs I've tried. The highly oxidized and light roasting technique gives it the aroma of yellow fruits (dried mango, apricot and peach come to mind) and a whiff of lightly roasted grains. There is also caramel, which is especially found "on the bottom of the empty cup" and from the hot damp leaves. The liquor itself gives a tint of sweetness in the mouth, which persists in the back of my throat for quite long after swallowing the smooth liquid. Medium, rounded body, which in my opinion is good when compared to some Dong Ding oolongs that have good "nose" but hollow mouthfeel. I agree with Guang's observation on the Wuyi oolong taste resemblance in this tea, to some extent. In my view, this is a complex and very enjoyable oolong.



4 stars

(vg)