All this monkey business ought to stop.
Chinese tea factories and companies that produce "monkey-picked" teas would do well from not referring to their employees as monkeys. Ask any business consultant, and they will confirm that it's an effective policy to boost workers' morale. It is a right step in the direction of reducing or eliminating employee harassment lawsuits. It is also highly insulting to the independent tea growers.
Wholesalers and retailers should stop the practice of labeling and selling their teas as "monkey-picked", unless the business owners and managers climbed something and picked the leaves with their bare hands. It's just plain dumb to employ this trick on unsuspecting buyers. You would look even dumber and amateurish for selling such named products to the more sophisticated customers.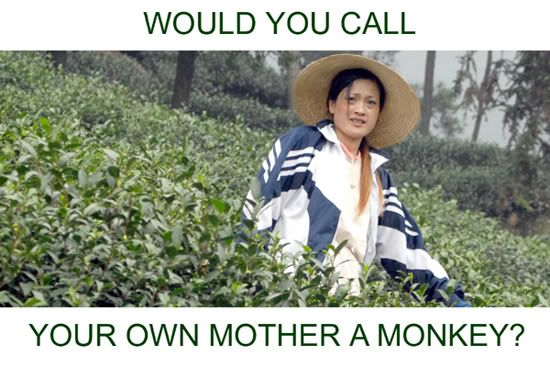 We, the customers, should start suing producers and sellers that sell "monkey-picked" teas for false advertisement. It isn't right for us to get human-picked tea when we've been explicitly told -- or the label says -- that it's "monkey-picked", is it? We should truly expect the tea to have been picked by monkeys if it says clearly so. Real monkeys...not by people who look like or call themselves monkeys, and certainly not by workers who have been referred to as monkeys by their twisted employers.

It is simply dehumanizing to refer to all those good men, women and even minors who work hard to bring us this noble beverage as monkeys.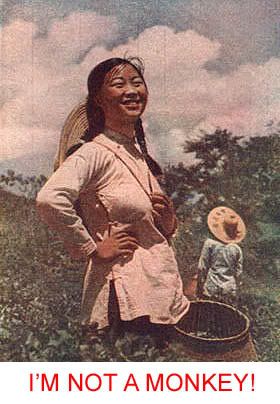 This post may not be the one that ends the practice. Most certainly, it is not the most research-backed either. But the spirit is right in defense of consumers' and tea pickers' interest (monkeys', too, for that matter) everywhere. Cinnabar over at the Gongfu Girl blog has written a more eloquent and better-researched article about the myth and legends behind the term "monkey-picked".
---
Pictures were swiped from the internet and then modified without prior permission of the rightful owners, with the believe that it's permissible under the general rule of
fair use and parody
of the copyright law.