Sorry for the recent lack of update. The blogger beta just went nuts on me for the past few days and it still is. The formatting feature is gone, somehow, so I'm posting this using html, which requires a bit of a learning curve on my part.

The family (me, my wife, baby girl, and wife's parents) spent the Thanksgiving week in San Diego, which was nice. The weather is slightly cooler this time of the year in SD, but it could still pass as beach weather all the same. It was a casual trip with no preconceived mission for wine / tea drinking or any serious tasting notes.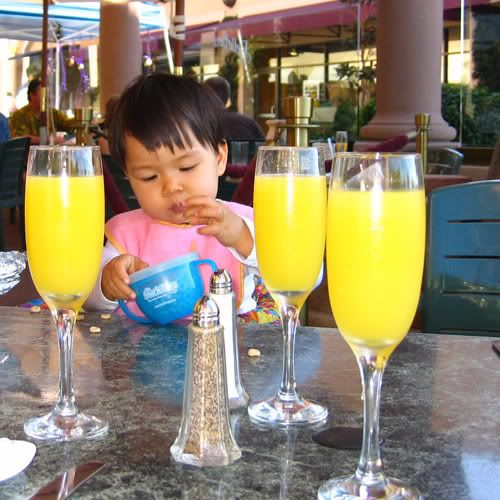 On the way to our hotel in Pacific beach (next to the famous La Jolla beach), we stopped by Carlsbad to lunch at the Bellefleur Winery and Brasserie. The restaurant is also a bonded winery that makes wines under their own label. Since I was driving, I didn't order or bothered to buy any of their wine to go. The restaurant/winery was serving their Sunday Champagne brunch buffet, so they poured for us refill after refill of semi sweet (oxymoron alert!) Californian Champagne. Technically, it was a Sunday Californian sparkling wine brunch, but that doesn't sound as catchy, does it? At first I didn't get why the waiter poured the "Champagne" only halfway the flute, until the unannounced orange juice came. Aha...Mimosa! Go on ladies and gentlemen, load up on sugar and alcohol before you head to the buffet tables! The buffet selections were wide and varied. At $20/head I thought it was quite a good deal...a buffet like this in Las Vegas would probably have cost more.

We rented 2 cottages at the historic Crystal Pier Hotel where we literally slept above the lapping waves. The view from our private patio was just amazing, especially at sunrise and at sunset! The cottages are nice, too. Everything is clean and feel newly renovated with a comfortable large bed. The feature we liked best as young parents traveling with a kid is the full size kitchen. We could make food for our daughter in the comforts of our cottage before heading out to tour the city. And did I mention the view was great?

(Click to enlarge picture of the view from our patio. My baby and dad-in-law.)

I decided not to pack my tea set with me but just bring along 3 types of tea in stainless steel canisters: the Hong Shui oolong from Houde, the Spring 2006 Da Hong Pao from Teaspring, and the jasmine dragon pearls that my wife so loves. Since I brought with us a few bottles of wine in an ice box, and that we are not light travellers, the tea set had to give way, unfortunately. I should probably buy a small travelling set. It wasn't ideal, but I was able to improvise and managed to get decent cuppa every time.

On one cool, foggy night we dined at a Thai restaurant called Karinya nearby our hotel. The food was good and the spices was just what we needed to warm up our bodies. Every dish had a touch of homemade feel to it, which I appreciated. The price is a tad high since they are located in a high rent district (on Garnett Street, which is the main retail and commercial vein leading to the Crystal Pier). I forgo ordering from the wine list, though the Ch. Ste. Michelle Gewurztraminer would be a good match for the dishes we had. Instead I just asked for a large pot of hot water for brewing the Hong Shui oolong that I brought along in my backpack.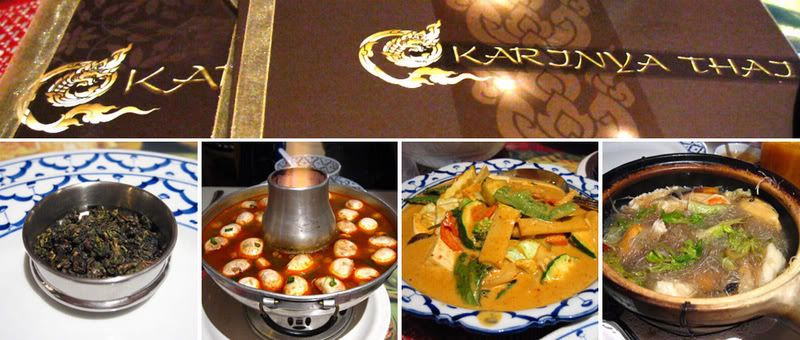 For breakfasts in our cottage, I brewed mostly the Da Hong Pao in the hotel's coffee pot. As long as I was careful not to overbrew it, the tea was quite good. Everybody liked it and I thought the tea went quite well with the eggs, cheese, sausage, bread, jam and tvorak (a sort of Russian cottage cheese). Fellow tea purists, please don't crucify me for brewing DHP in such a way and for drinking it with food. :)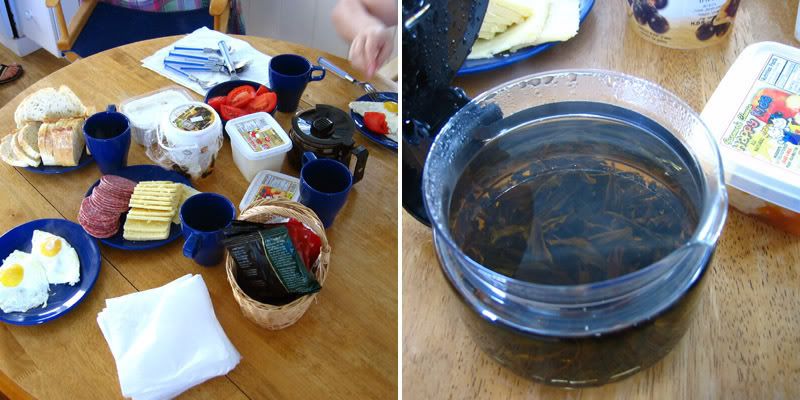 After coming back from the zoo, the Sea World, and what not (yes, this trip was about entertaining and showing our baby "the world"...not really for the adults) we usually spent the rest of the day at the beach below our hotel or just hang out in our private patio with a glass of wine (or two or three). I'm glad to have brought the wines myself because we do spend a fair amount of our time in our cottage, with the little one's nap and meal schedule. I just didn't have time to look for a proper wine store in the area. Some of the wines I brought and opened:


N/V Billecart-Salmon Brut Champagne
($40) Fine mousse and bubbles. The nose is of sharp citrus and grapefruit. A little tight and needed decanting to soften it a bit, but I didn't have any workable decanter with me. The taste reflects the nose plus a hint of green apple. It's a mezzo-soprano of a Champagne. The finish is rather swift.









2004 Bodega Norton Reserva Malbec, Mendoza, Argentina
($15) We opened this one night while watching The Da Vinci Code on DVD in our cottage. Both the movie and the wine came up short. This Malbec bottling was mellow and rounded but lacked acidity, so it tasted flabby. An overall earthy wine with a somber note of blackberry. Rather depressing, actually, despite that it came highly recommended by some Winexilers.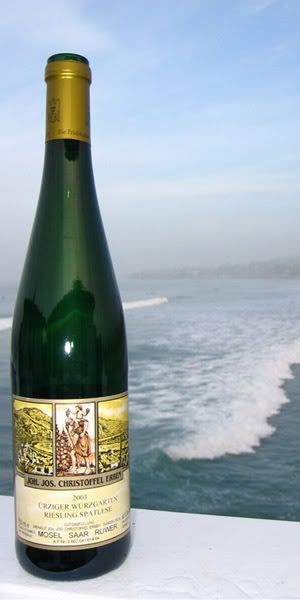 2003 Joh Jos Christoffel Riesling Spatlese, Urziger Wurzgarten, Mosel-Saar-Ruwer, Germany
($25) Simply lovely! All the characters of a balanced Mosel Riesling in play: yellow fruits, rocky slate minerality, acidity and sweetness. A polished, detailed, juicy and delicious wine. The sweetness is a bit high for a Spatlese, which is a typical character of the hot weather in 2003.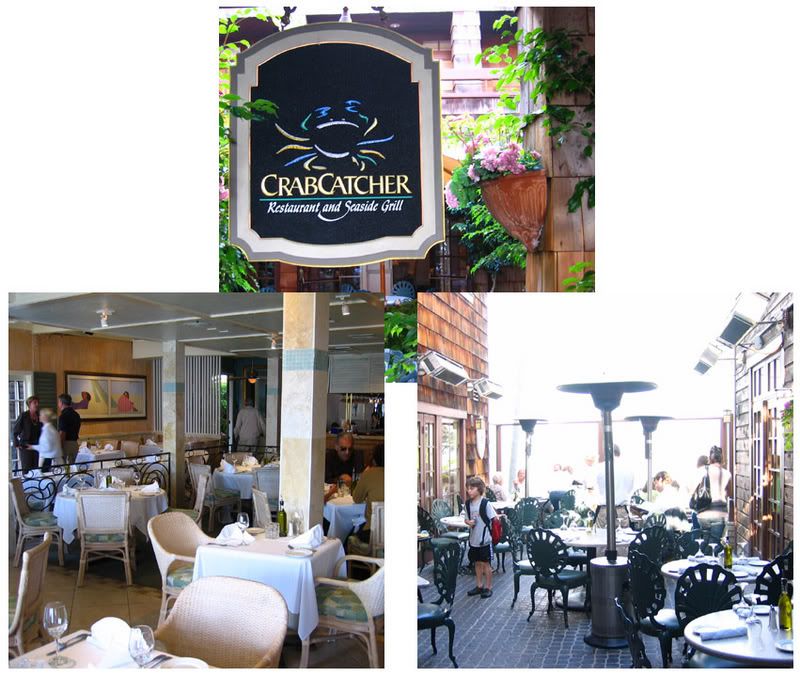 On the way home to LA, we lunched at an upscale looking white-linen restaurant called The CrabCatcher. The restaurant looked very nice and expensive, and it came complete with a snobbish lady maitre'd (perhaps because I had a little baby with me...a sign of potential mess and noise, which exactly what happened). Anyways, we were sorely disappointed with the quality of the food given the price, location and the manicured look of the restaurant. We ordered the crispy calamari as an appetizer, and for the entree we had the shrimp scampi, a $10 burger, the fish of the day (sea bass) cooked with a spicy salsa-like sauce ($24) and the Cioppino. The premium pricing was expected given the ambience and location of the venue...too bad the food didn't live up to the expectation that they themselves created, however. The service was gracious, I should note, so I still at least left them a generous tip at the end of our meal.

Their wine list was OK...they seem to have chosen their CA Pinot Noir and CA Cabernet Sauvignon selections with the recent trend in mind (Williams Selyem, Sea Smoke were 2 PNs I remember seeing on their list). The Champagne choices were good, too. Everything else other than those three wine categories felt like they are there only for the sake of having something on their wine list...not particularly exciting. As on the way to San Diego, I didn't order any wine again since I was the driver (I really wanted to order the Sea Smoke Pinot Noir, but nobody felt like having wine with their lunches, and it didn't come by the glass). So I just had two glasses of Anchor Steam beer, which was nice. After the dissapointing lunch, we walked around La Jolla a bit until the alcohol effect subsided before we headed back home; a journey that involved an excruciating 7 hours of heavy traffic.

To be continued...Thanksgiving dinner and a picnic with friends.