Happy New Year everyone!

Since I last updated this blog, I enjoyed some excellent as well as not so satisfying teas and wines.

1997 Beringer Cabernet Sauvignon Private Reserve, Napa Valley ($100)
It seemed like this wine had gone over the hill -- though still palatable -- like the previous 2 bottles I opened in 2005. It was oaky and only a shadow of the fruits remained. I was quite dissapointed, again. Either this wine was improperly stored by the supplier, by Costco -- where I got 3 bottles from in 2004 -- or that this particular vintage and bottling was short-lived by nature or by craft, despite coming from a very good year. 1-2 stars.

2004 Seghesio Old Vines Zinfandel, Sonoma County ($26)
Nice. Lively acidity with good flavor intensity of red/black fruits and that classic zinfandel's peppery finish. It's still a bit too primary (young) and the tannins was tight. In 2 years or so this wine should sing better. I think its 2001 and 2003 siblings were slightly better, but the 2004 was delicious, too. 3.5 stars.

N/V Billecart-Salmon Rosé Champagne ($55)
As always, a delicious and classy rosé Champagne. When in the mood for a good and [relatively] affordable rosé bubbly, you can't go wrong with this baby. Yum! 4 stars.

Magnum of N/V Dampierre Cuvee de Ambassadeur, Champagne ($75/magnum)
Also a good bubbly that had a talcum-like taste and texture. Fine mousse and bubbles. 3 stars.

I had these excellent teas:


Anji Baicha
Despite the word "Bai" (白: white) in its name, I've been told that it is technically a roasted green tea. Anji Bai Cha hails from the Anji county in Zhejiang province.

I love this tea! The thin grass-like leaves are full of life and health. Its bright green color is almost luminous and lend it a delicious appearance. Surprisingly, it manages to not smell grassy. This tea is vibrant with aromas of white flowers, sweet almonds and a hint of basil undertones. The aroma of the brewed liquor reflects fairly the aroma of the dry leaves. Its excellent mouthfeel is subtle, yet round, supple and mouth watering. Finishes with an impressive sweet aftertaste that lingers on. 4 stars (vg)

Parameter: 165 – 175 F spring water. About ¼ full of dry leaves in a gaiwan. Start with 30 seconds then adjust to taste.

Anji Baicha (a slightly higher grade than the one above)


Dry leaves are of medium to dark green with some yellow tint. When steeped, each shoot opens to reveal a one-bud-one-leaf or one-bud-two-leaves system. The liquor gives a sweet taste and a pleasant floral, peanut, honey, and fresh cut grass aromas. This tea somehow reminds me of a fragrant rice / mealy concoction. It finishes sweet in the back of the throat with a long lasting hui gan. The rice-y character becomes more pronounced with each subsequent brew up until the 4th or 5th, when the leaves are spent. Medium bodied with a smooth and sweet finish. 3.5 stars (g – vg).

Parameter: 165 – 175 F spring water. About ¼ full of dry leaves in a gaiwan. Start with 30 seconds then adjust to taste.

Zhenpin Lu Xue Ya


The dry leaves look very appealing and are similarly shaped to the bamboo tea leaves of Mount Emei (aka: Emei-shan Zhuyeqing), except that the leaves of this Lu Xue Ya are slightly larger, darker and meatier. Some are coated neatly with white down. This tea's mealy characteristic along with bamboo, oatmeal, honey, hay, and sweet floral aromas is wonderful! The soymilk-like texture of the liquor and its wholesomeness add to the complex beauty of this tea. A pleasure to drink! 5 stars (outstanding).

Parameter: 165 – 175 F spring water. About ¼ full of dry leaves in a gaiwan. Start with 30 seconds then adjust to taste.

And a tea that I wished I could enjoy:

1989 Menghai #7542
aka: "88-Ching Beeng" #7542
10gr sample from Houde Asian Art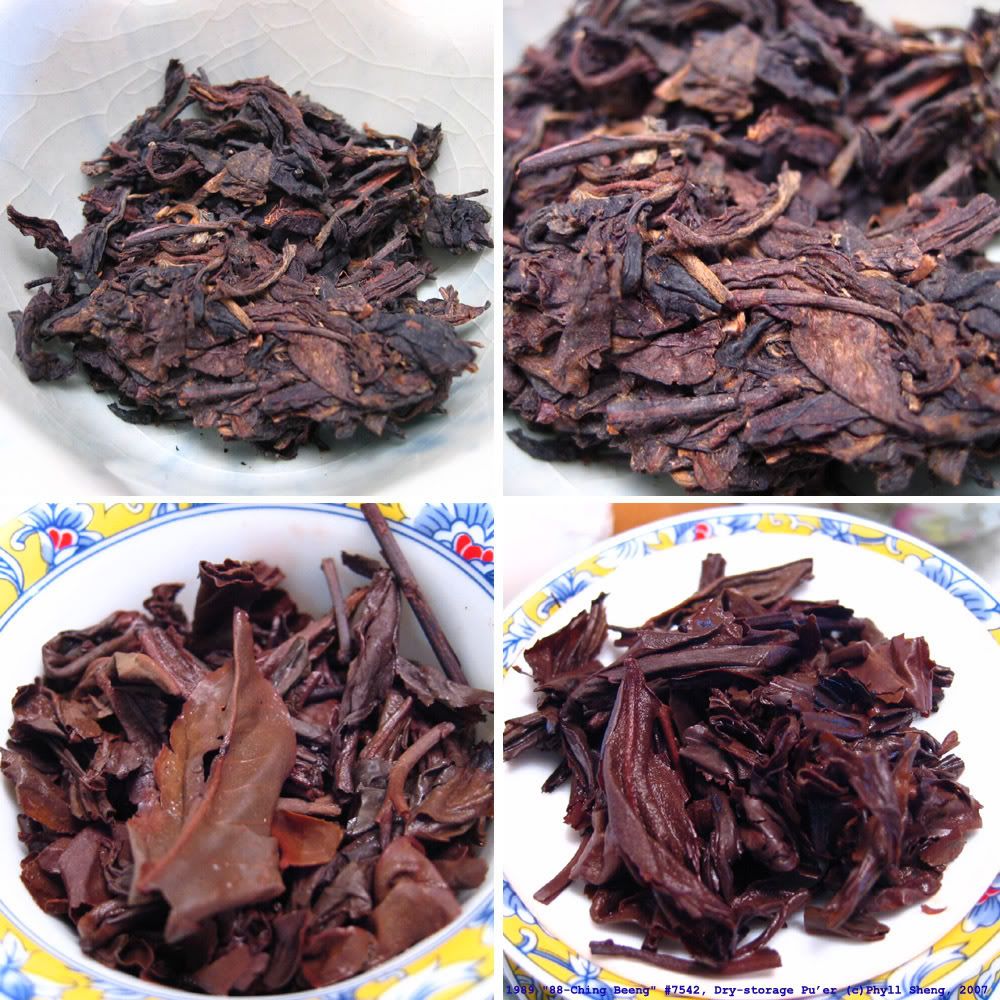 The 1989 "88-Ching Beeng" pu'er is regarded as a benchmark of excellence among quality "older" pu'er that have been stored under the so called "dry storage" environment. The story goes that Mr. Chan of Best Tea House in Hong Kong was offered a boatload of this tea at an affordable price, he took them and store them in a dry-condition warehouse (read more). At US$450 per 357gr, I expected it to live up to its reputed good taste. Unfortunately, however, I didn't find it enjoyable. Whether it was due to my personal taste or other reasons, my 2 attempts to brew this tea -- each time with a different parameter and water -- did not produce something that I could regard as enjoyable.

For my first attempt, I used Glacier filtered water and the following parameter: boiling water, approx. 5 grams of dry leaves in a 100ml gaiwan, 10 sec rinse, 30 sec rest, then 15s, 10s, 15s, 15s, 30s, 1m, 2m.

The wet leaves were pleasantly and vividly woody with some white pepper aroma. Exceptional liquid clarity. Taste wise, there was some of mustiness that dissipated by the 3rd brew. The aroma of tobacco / cigarette smoke and a slight metallic taste was quite offputting. They were mostly gone by the 6th brew. By that time, however, it was already rather difficult to enjoy or think positively of the tea. The overall body was between thin to medium. The aftertaste was generally that of cigarette smoke / tobacco. Tannins, though present considerably, was more sateeny than dusty.

For my second attempt, I used Volvic spring water and approx. 5gr of dry leaves in a 100ml gaiwan. 10s sec rinse, 30 sec rest, then 5s, 8s, 8s, 15s, 30s, 30s, 1m, 2m.




As in my first attempt, the smell of the wet leaves was appealingly woody and peppery. My tasting note from this session was mostly consistent with the note from the first session, except that (1) Volvic water provided a slightly better mouthfeel and body and (2) by the 6th brew, when the aromas that I didn't enjoy had mostly dissipated, the tea gave a hint of sweet aftertaste.

Overall, however, I felt uneasy and unsatisfied throughout the 2 sessions with this tea.
---
PS: I have shortened the title of this blog. Though the intended meaning might have changed somewhat, I thought the shortened title sounds more concise and it still retains the gist and focus of this blog.