Package From Tea Masters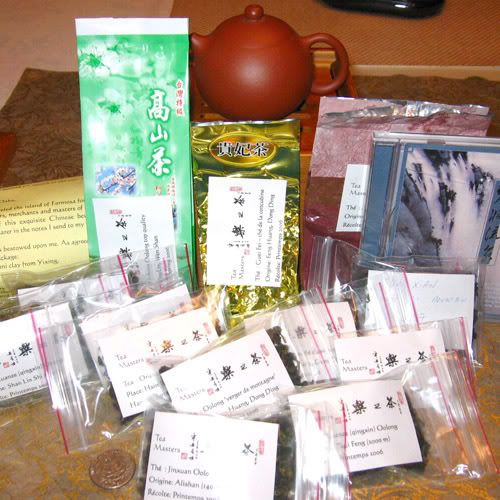 A highly anticipated package finally arrived this weekend from Monsieur Erler in Taipei. I purchased from Stéphane (of
Tea Masters
) a small zhuni Xishi Yixing pot and a variety of oolong samples from his product selections. Stéphane really paid a lot of attention to the details, down to the littlest of things on the labels, packaging and the well-written cover letter (with deliberately-burned sides for visual effect!). I felt like receiving a package from a very dedicated and boutique-y teashop. Having tried a few of his selections, including his 2003 Yiwu pu'er and 2006 Dong Ding "classic" oolong, I can confidently say that he had carefully chosen his products to include only the very high quality. Moreover, his approach to customer service is simply responsible in all manners, which is more than one can ask for. To wit, Tea Masters is among one of the best and most reliable vendors out there, and it has set the standard bar very high for other vendors to match. Praise where praise is due.
---
Zhuni "Xishi" Yixing Pot From Tea Masters (100 ml)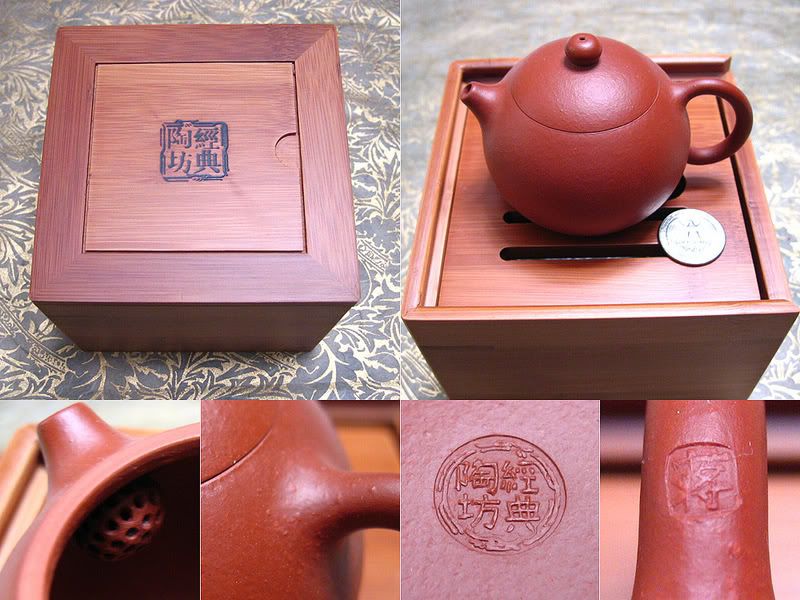 If Marie Antoinette's bosoms were dedicated to Champagne saucers, then the realm of Chinese teas has Lady Xishi to thank for. At least that's how I view a Xishi teapot should look like. I decided to purchase it from Stéphane because, first and foremost, of its very sensual shape. Most Xishi teapots out there do not have the shape that is as "appealing" as this one, in my humble opinion. Ok, so I maybe have a fixation on breasts…I mean, who doesn't? It's the perfect symbol of mother nature.

So how is the teapot? Outstanding! Good clay, great proportions, excellent workmanship, swift pour, and perfect lid fit that is airtight and not drippy. It is the epitome of satisfaction a Yixing can give. I think it's an excellent buy for the quality. It's too soon to say what it's for, but I am thinking of dedicating Da Hong Pao with it.

---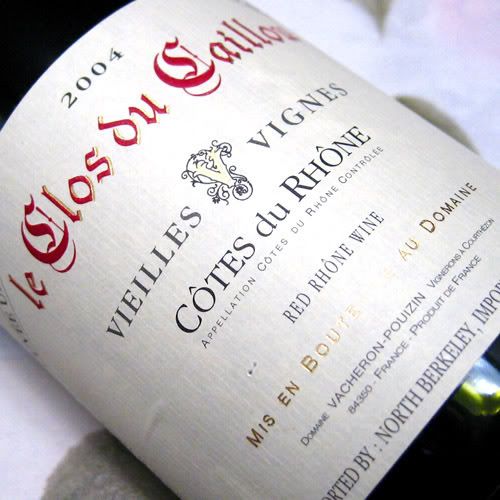 2004 Domaine le Clos du Caillou, Côtes du Rhône, Vieilles Vignes (Old Vines)
$22

"We assembled a blend of 75% Grenache, 15% Syrah, 5% Mourvèdre and 5% Carignane for our Cuvée Unique. Think blackberries dusted with baking spices, juicy cherries dipped in dark chocolate—simply a blockbuster Côtes du Rhône! Our selection of the finest lots of the vintage includes wine from some 37 older barrels, blended with wine from two different tanks and a few larger foudre. Hard work—but it definitely paid off. This is unmistakably the best of Châteauneuf-du-Pape, in a bottle of Côtes du Rhône."
TN: Beautiful, lively young, deep ruby red color. Refreshing nose of blue and black berries, red cherry, pencil shavings, and soft oak. Some minerality came through. Soft and silky mouthfeel with fine tannin. Medium finish (20 secs) with a light coffee and chocolatey aftertaste. Good acidity level complements the overall taste to make the wine feel vibrant. On the second day (stored with inert gas to preserve freshness), some stewed strawberry taste emerged.

I think this is good wine to accompany lamb chops, osso buco or that $15 hamburger at a fancy restaurant.

3+ stars (g - vg)

---
2004 Domaine Joseph Drouhin Chablis
$20

Vivid nose of gooseberries, citrus, pear and sweet ripe apple…and the absence of oak, of course, which is Chablis. I prefer my white wines non-oaked nowadays because oak masks the true characters of such a delicate type of wine. In the mouth it is quite lean, bordering on being watery. Dry and crisp, with bearable amount of acidity. I was expecting daggers from the acidity, which is common in young Chablis. Better nose than mouth, I say.

This wine makes for a good aperitif to accompany light salad with vinaigrette dressings or fresh raw oysters! It should also go well with light seafood dishes.

3 stars (g)
a
a
a
a
a
---
Wuyi Weekend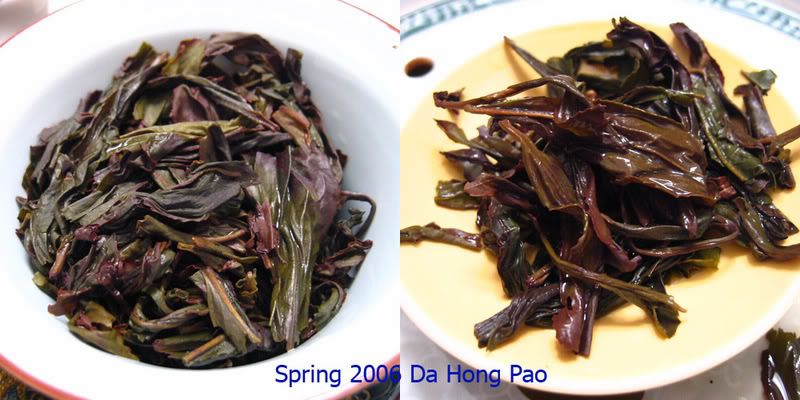 Spring 2006 Da Hong Pao from Teaspring.com. A lighter fired version of Da Hong Pao that I found to be very good. Complex tastes and aromas of flowers, fruits, caramel and some greenness, all this with an undertone of soft roasted taste. I enjoyed it very much. According to Daniel Ong (the proprietor), the lighter-fired oolong such as this should be at its apex in about 3 years time.
a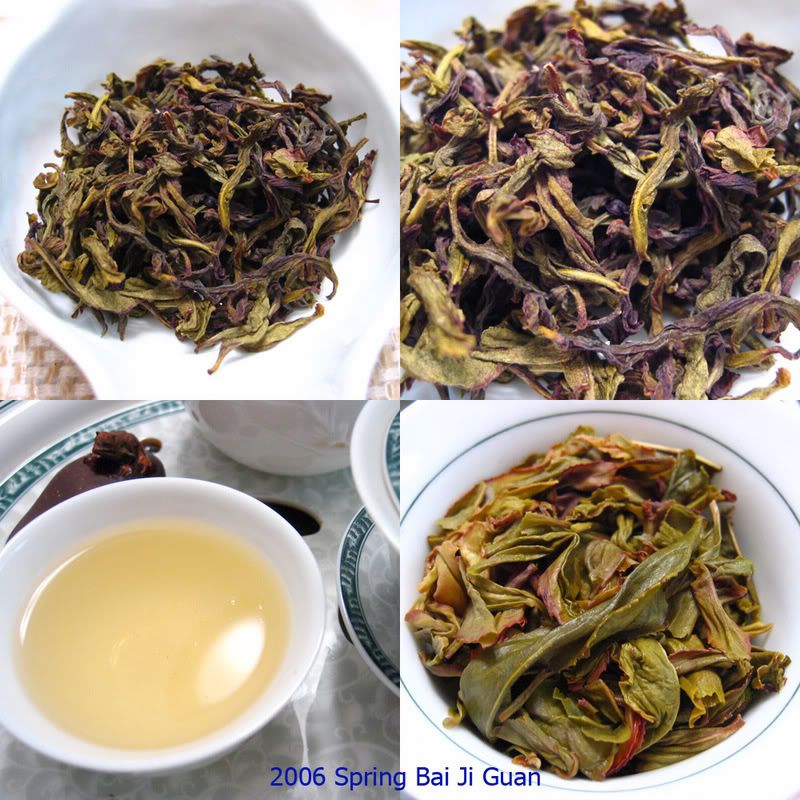 Spring 2006 Bai Ji Guan from Teaspring.com. This Bai Ji Guan is quite green! It's quite hard to describe the aroma profile of this tea…I don't think I have the vocabularies for them yet. Can anyone please tell me to what usually the aromas of Bai Ji Guan is attributed to? It's light bodied and mild.
a
a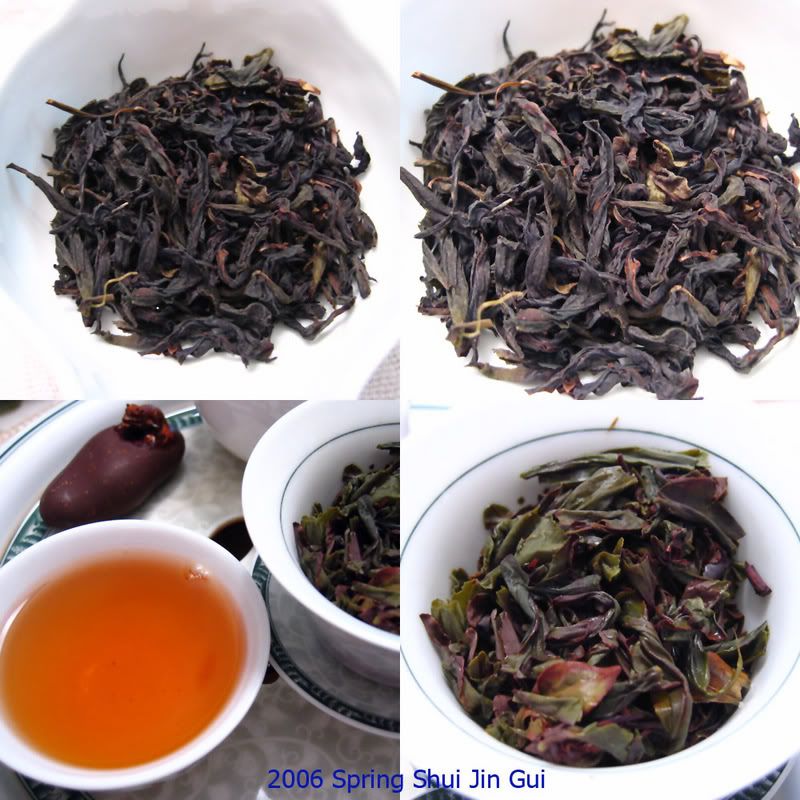 Spring 2006 Shui Jin Gui from Teaspring.com. The Shui Jin Gui is a bit more roasted than the Da Hong Pao, and it exhibits herbal characteristics reminiscent of Chinese medicine…the tolerable one. It's kind of soupy in a way that it reminds me of the herbal chicken soup with a potpourri of Chinese herbs in the mix. Interesting, but an acquired taste for me.
a
a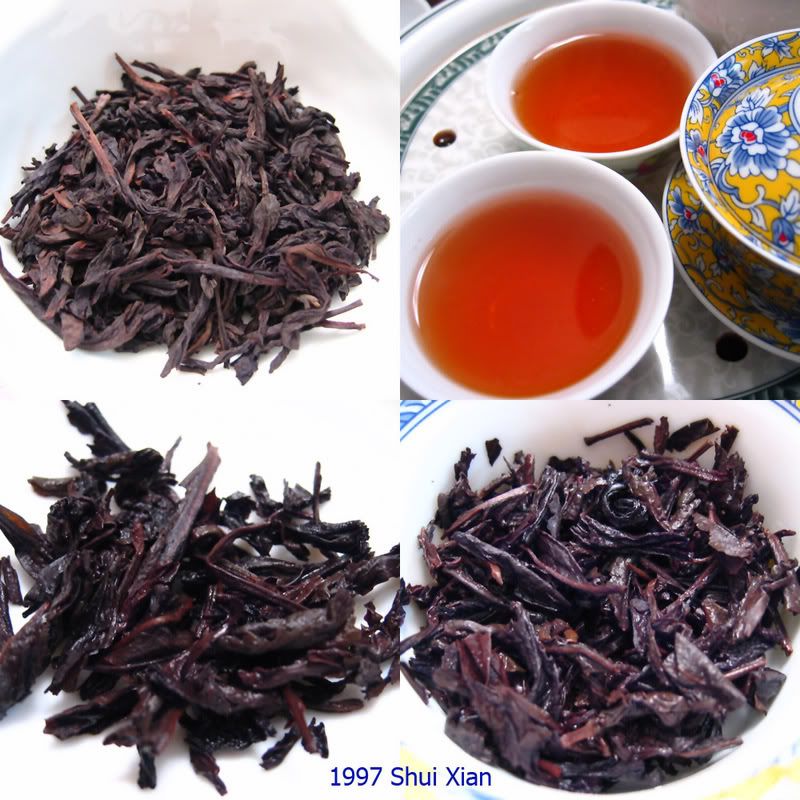 I also tasted a 1997 Shui Xian sample from Stéphane (
Tea Masters
). This tea exhibits a chocolatey nose and something that reminds me of toffee. On the palate, the first thing I noticed was its obvious astringency, as if there is a drop or two of lemon juice in my cup. The mouthfeel is pretty good…medium bodied and smooth. There is no smokiness or any heavy roast taste, perhaps due to the aging effect?