My wine friend, Gumby (not his real name), got this recipe from Easy Entertaining with
Michael Chiarello
and posted it on Winexiles. I decided to try it out in lieu of the traditional Chinese noodle dish that is served during the Lunar New Year celebration. My wife and I loved it, though she thinks it's a bit too spicy.


Red-Wine Spaghetti with Broccoli Rabe
(6 generous servings)

1 3/4 pounds broccoli rabe, thick stems discarded
1 pound spaghetti
1 bottle red wine (750 ml - preferably zinfandel)
1 teaspoon sugar
1/3 cup extra-virgin olive oil
4 garlic cloves, finely chopped (2 tablespoons)
1 teaspoon dried red hot pepper flakes
3/4 teaspoon salt
1/2 teaspoon black pepper
1/2 cup grated Parmigiano-Reggiano

Cut broccoli rabe into 1-inch wide florets. Blanch in a 6 to 8 quart pot of boiling salted water, uncovered, 2 minutes. Transfer with slotted spoon to a large colander to drain, reserving broccoli-cooking liquid in pot, then transfer broccoli to a bowl.

Return cooking liquid to a boil and cook spaghetti, stirring occasionally, 5 minutes (pasta will not be fully cooked). Reserve 1 cup of pasta water and drain pasta in colander and return empty pot to stovetop.

Add wine and sugar to pot and boil vigorously 2 minutes until liquid is reduced a bit. Add spaghetti and shake pot to prevent pasta from sticking. Gently stir with tongs until coated and boil over high heat, stirring occasionally, until most of the liquid is absorbed, about 6 minutes (pasta will be al dente).

Immediately after adding spaghetti to wine mixture, cook garlic and red pepper flakes in the olive oil in a large, deep skillet over moderately low heat, shaking skillet occasionally, until garlic is pale golden, about 5 minutes. Add broccoli, salt, and pepper and cook, stirring, 1 minute. Add 1/2 cup of reserved pasta water. Pour broccoli into skillet with the spaghetti mixture and carefully toss with tongs to combine (skillet will be very full). Cook while stirring, about 2 minutes. Remove from heat, season with freshly ground black pepper and drizzle with a bit of olive oil.

Stir in the grated cheese. Serve immediately.
---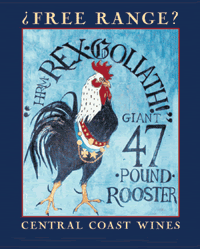 Phyll's Note:
- Broccoli rabe can be substituted with spinach

- I used a round, supple and fruit forward H.R.M. Rex Goliath zinfandel ($7.99)
-
The dish came out a little too spicy. I recommend using a bit less red hot pepper flakes
- I added 1/4 lb of ground chicken and 1 cup of diced orange bell peppers for added color and acidity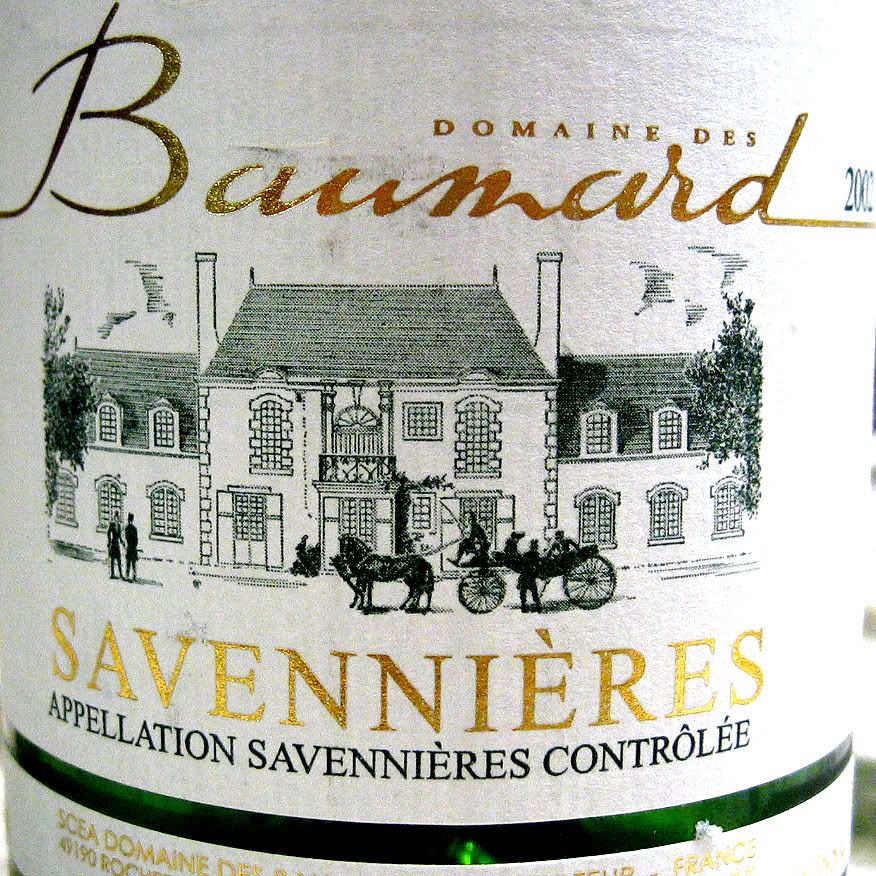 Wine pairing suggestion: this dish is bold tasting. The combination of red hot pepper flakes, black pepper, fruity zinfandel, and the slightly bitter broccoli rabe makes this dish tastes gutsy! So we paired it with a bottle of 2002 Domaine Baumard Savennieres ($18) from the Loire Valley. It excellently balanced the dish out. The wine was lithe and lively with fuji apple, orange rind, lime and pear. We think this dish would also go well with a kabinett level German Riesling or an Alsatian Pinot Gris.