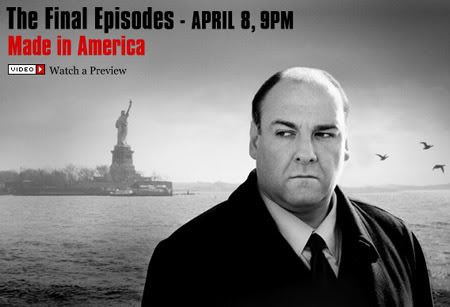 Just finished with watching The Sopranos (1st plug of the final season). Thought I needed a "Tony Soprano" kinda wine to match the potential intensity of the episode. So I cracked open a Napa Valley Syrah by Saxon Brown, a winery that is owned by Jeff Gardner and his wife. Jeff is the talented winemaker behind many well known CA wineries and Saxon Brown is his personal project.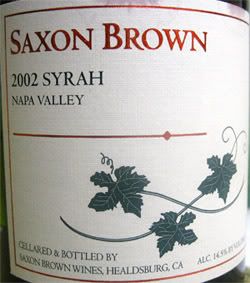 2002 Saxon Brown Syrah, Napa Valley
(80% Syrah, 20% Cabernet Sauvignon)
$35 95 cases produced

This is drinking very nicely right now. Quite a change from a year ago (bottle variance?). The tannins has soften somewhat from my last visit in March of '06.

Deep, vibrant purple/garnet color. A big wine (like Tony). Copious amount of blackberry, plums, graphite and cocoa. Judicious amount of oak. Lively acidity gives this wine three dimensionality. Dark chocolate and espresso finish that stays on for about a minute...reminds me of a luscious tiramisu cake. Delicious and balanced.

This is quite an intense wine, I must say. Almost as intense as watching Tony fought bare hands with Bobby. 4 stars

Past tasting note (Mar 26 '06):
Pitch black/purple. Nose of dark plums and cocoa. There is also a slight yeasty smell to it. Soft oak. A bit hot in the back due to the 14.5% alcohol. Still quite tannic...need more time to soften, but the fruit elements probably won't hold up for as long as the tannin. This is a brooding syrah that struggles for but didn't achieve balance. 2.5 stars.
---
Winemaker's Note:

www.saxonbrown.com


Vineyard: This is our first Napa Valley wine and it was a lot of fun. The wine is a blend of 80% Syrah and 20% Cabernet Sauvignon. The Syrah was from a vineyard in Yountville and the Cabernet Sauvignon was from the Rutherford area. Both are great, impeccably-farmed vineyards. We only made 4 barrels of this wine so we treat it like gold.

Winemaking: As with all Saxon Brown wines, I really wanted this Syrah to be an expression of the site. Given that the wine is a blend of two varietals from two different vineyards it was challenging and fun to capture the site signatures in such a small production wine (95 cases). Both wines were kept separate for the first year, aging in new and one year old French oak barrels. After the first year the wines were blended and put back to the same barrels. The total time in barrels was 26 months.

Tasting Notes: Great intense color. The nose is as concentrated as a red wine can be, lots of dark rich fruit and amazing chocolate / mocha and lavender tones. On the palate this wine is almost thick with elegant tannins and a long finish. Please try to uncork about 30 minutes or so before serving to allow the wine to open —the effort will be well worth it.