The weather was glorious this past weekend. I spent Sunday morning and afternoon in the Malibu / Santa Monica Mountains with my wife and daughter attending a company picnic at a
huge ranch
. As we drove near the ranch's entrance, I noticed trellises of grape vines strewn about the surrounding hills. I asked some of the ranch employees about the vineyards and the possible existence of a winery nearby. Apparently, not farther than a quarter of a mile from the ranch's entrance is a wine tasting room. So I made it a mission to visit the tasting room after the picnic.
(View of the Malibu / Santa Monica Mountains and one of the vineyards)
Malibu is better known for its beautiful beaches and as the coastal neighborhood where the rich and famous live. It is, however, not exactly well known (yet) as a wine growing region. Perhaps Malibu has a cult status among some wine enthusiasts, although I'm not sure. I think it was a few years ago that someone told me about the vineyards there. It wasn't until last summer, though, that I tasted a Malibu wine for the first time when a friend brought a bottle of Cabernet Sauvignon to a picnic. I can't remember the label or the vintage, but I thought it was drinking decently. So only by coincidence that today I found the opportunity to taste the wines made from grapes grown locally.

The tasting room that I visited is run by a company called Malibu Family Wines, which owns about 65 acres of the surrounding vineyards. It's useful to note that Malibu Family Wines is not a winery, but rather a company that owns vineyards. They employ a third party or parties to make their wines and they also buy some grapes from others. As far as I got from Kevin, the knowledgeable and friendly wine steward, they have two labels under which they bottle their wines: Saddle Rock and Semler. The Semler label is used for wines made with locally grown grapes. And the Saddle Rock collection, very strangely, are wines that are made with grapes grown in the California Central Coast region.


(The very busy tasting bar @ Malibu Family Wines)
I said "very strangely" because Saddle Rock – Malibu is itself a legally designated American Viticultural Area (AVA) within which the tasting room is located (or nearby). Central Coast, on the other hand, is an area encompassing the mid-section of California, spanning from Santa Cruz County on the north-end and going south until it reaches the Santa Barbara County. Monterey Bay, Paso Robles, San Luis Obispo, Santa Ynez Valley and other AVA's in between fall within the "Central Coast" region as well. The label, therefore, is rather deceiving, don't you think? It's as if they are trying to build the reputation of Saddle Rock - Malibu AVA by using the more well-established quality of Central Coast grapes.

In fairness, though, the Saddle Rock – Malibu AVA was only established in 2006, so if the Saddle Rock brand was established before the AVA was, it would be a rather costly business decision to re-brand their products. But still, couldn't they just switch to use the Semler brand for the Central Californian wines and use the Saddle Rock brand for the -- you guessed it -- Saddle Rock - Malibu wines? In any case, the vines in Saddle-Rock Malibu AVA are relatively young. I was told that their oldest vines were planted in 1996, and their first vintage was 2001.

Interested only in the wines made from grapes harvested in and around Malibu, Kevin poured for me a flight of the Semler label. The tasting fee was $12. Included in the flight were the 2004 Merlot ($24), 2002 Merlot ($?), 2004 Cabernet Sauvignon ($27), 2002 Cabernet Sauvignon ($?), and the 2002 Syrah ($24). As a bonus (maybe because I was asking too many questions), Kevin also poured for me the 2004 Cabernet Sauvignon Reserve ($75), which is their first "reserve" (read: more expensive) bottling that had received some aging in 100% brand-spanking-new French oak barrels.

My humble verdict on the Semler wines: not bad…the 2004 Merlot had some good tannins and depth (rather chewy…reminded me of a red zinfandel), while the 2002 Merlot has mellowed out considerably and with lots of nice red fruits on the nose. The 2004 Cab (non-reserve) has plenty of oak and tannins still, and the 2002 Cab Sav was predictably softer, fruitier and almost floral. Kevin said it's drinking very "French", St. Estephe to be exact, but I thought it lacked the commonly found cedar note and it's not as dry as most Bordeaux I've had. The Syrah is blended with a Bordeaux variety (I can't remember if Kevin said Cabernet Sauvignon or Petite Verdot). Anyways, I liked the Syrah the least.
And the 2004 Cabernet Reserve…it has too much oak! It's a "muscle wine." Everything else that the wine possesses was drowned in the oak. It sure is meant to be laid down for a few years, but I am not sure if such an overly oaky wine will ever age gracefully. I thought this was a clichéd effort at making an expensive bottling with brand new oaks à la Opus One.
(The picnic area and my daughter posing in front of an olde automobile on the grounds of the Malibu Family Wines)
Overall, though, the Semler line is just alright. The wines should make a nice accompaniment at an outdoor picnic or with everyday casual meal. The prices, relative to their quality and the available alternatives, were a bit much. Maybe it's expensive because they come from Malibu.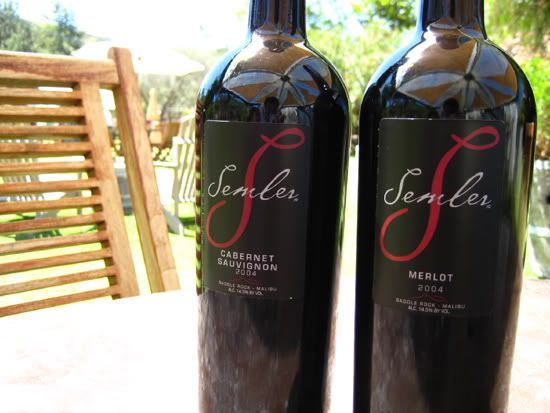 (I ended up going home with a Semler 2004 Merlot and a 2004 Cabernet Sauvignon)