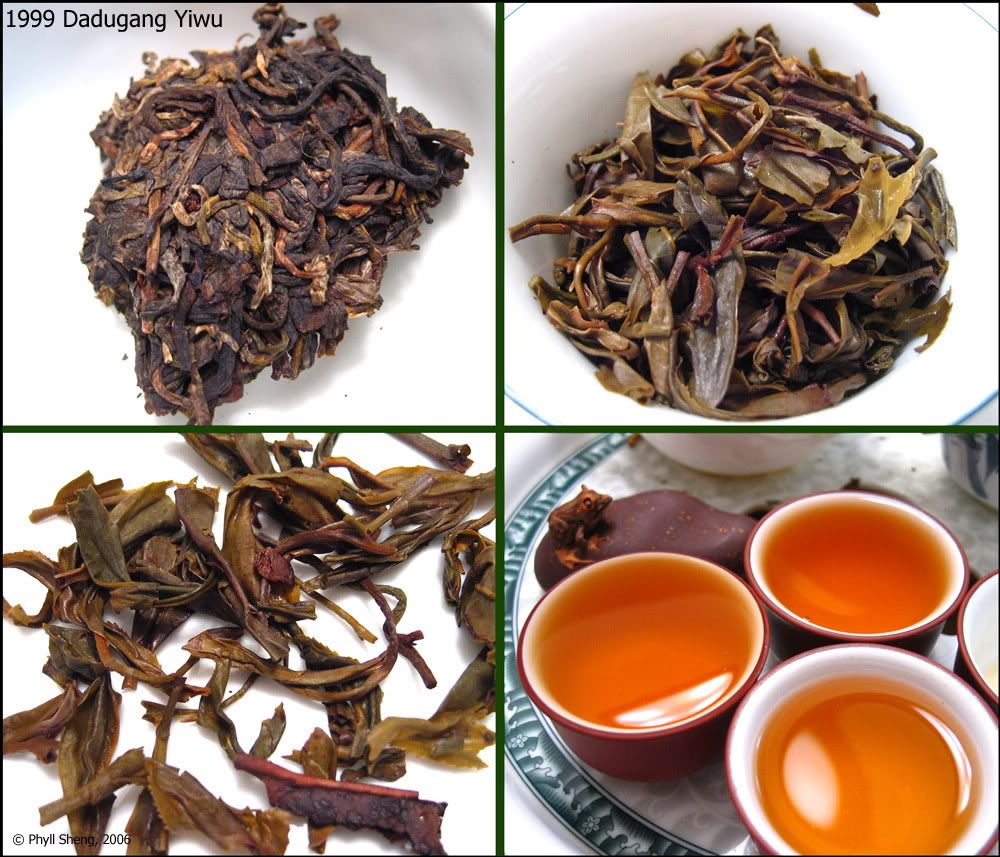 1999 Dadugang Yiwu Beeng Puerh
Thanks to psychopuncture for providing this tea to the LJ Pu-erh Community Pu-erh taste off!
Dry leaves: Many stalks (?) and leaves of medium-length which are long and thinly rolled. Color ranges from greyish dark green with noticeable white hairs to deep dark browns and black. Looks appropriately aged for a 7 year old tea. Hardly any smell, except for some faint salty/sweet plum-y aroma.

Brewing parameters: 150ml gaiwan, boiling multi-filtered water, 20s wash, 2m rest, then 8s, 10s, 15s, 30s, 45s, 1m.

Wet leaves: It smelled salty and sweet at the same time. It reminded me of preserved yellow plums and bamboo. Most of the dry "stalks" turned out to be long fibrous extensions of the leaves.

Liquor was generally yellow to medium brown in color, though slightly unclear from 1st to 6th (last brew). It poured with considerable viscosity. From the first cup onwards, the tea lacked complexity and characters. Brew after brew came out pretty much the same, except: the first brew was more medicinal (ginseng?) and the 4th brew had a bit of camphor in the aftertaste. Otherwise, the tea had a noticeable saltiness with plum, bamboo, and a faint sweetness. The aftertaste was minty and cooling. Light bodied, and hollow in the mid palate (like a doughnut's hole) . Cha chi was unsatisfactorily on the weak side.

1 star (not good but not bad)
Click here for other participants' opinion.
Note: the other tea for this week's taste off is the 1999 Mangshi Tea Factory from Dehong County, Yunnan.