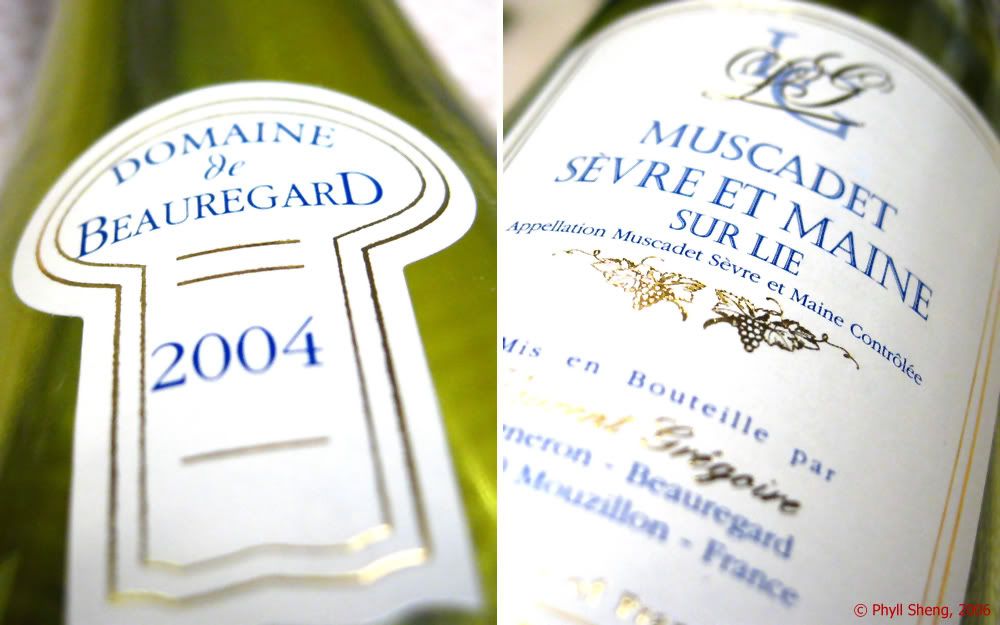 2004 Domaine de Beauregard, Muscadet Sevre et Maine sur lie ($14, 12%)

They say great wines can be had for a bargain. I agree! Unfortunately, this is not one of them. Pale yellow and straw green. Light nose of petrol and alcohol. Nothing much in the mouth...just tart water. Pungent aftertaste, unpleasant. Yech! It seems to be a shadow of what it's supposed to be.

I'm pretty sure this was just a bad bottle and not representative of what the wine is supposed to be, given the reputation of the winery and the sur lie style of winemaking. Perhaps it was heat or sun-damaged.

This should have been one fine white. Oh well, will someone please buy me another bottle to try?

For more information about the Muscadet Sevre et Maine region and its wines, go to
Stratsplace
.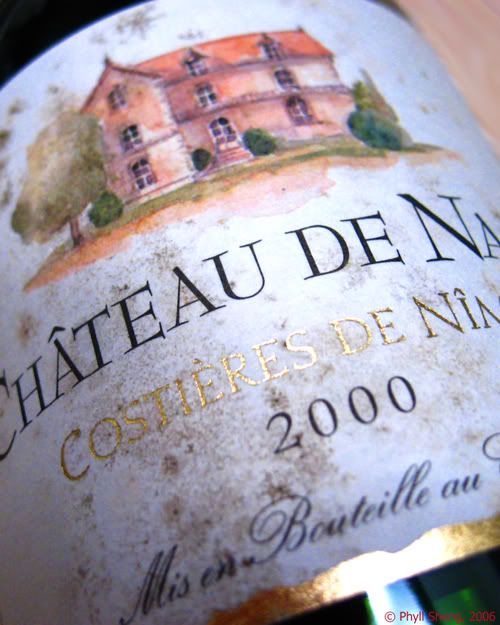 2000 Chateau de Nages, Costières de Nîmes, Rhone Valley ($8, 13.5%)
60% Grenache, 40% Syrah

A casual gift from dear friends, Alex and Christina (thank you!).

Whoa, lots of sediment! I had to use a mesh filter. Massive color! Deep, inky, opaque purple…a "purple hole". Viscous and thick looking when poured. Nose of dark berries, blueberries, and sour cherries with some dark chocolate and considerable gaminess. Quite oaky and cedary. Extremely dry on the palate. Medium bodied with ripe, puckery sandy tannin. Finishing pretty long with blueberries and coffee. This wine, I believe, can age for at least 2 - 3 more years easily, mellowing out the tannin.


3 stars (good, and very good QPR!)
Note: Costières de Nimes is quite different from any appellation. First of all, because of the uniqueness of Camargue region. The soil is made there of round pebbles. Costières de Nimes predominantly produces red and rosé wine from Carignan grapes primarily and Syrah, Grenache, Cinsault, Mourvèdre and other typical Languedoc grape varieties.