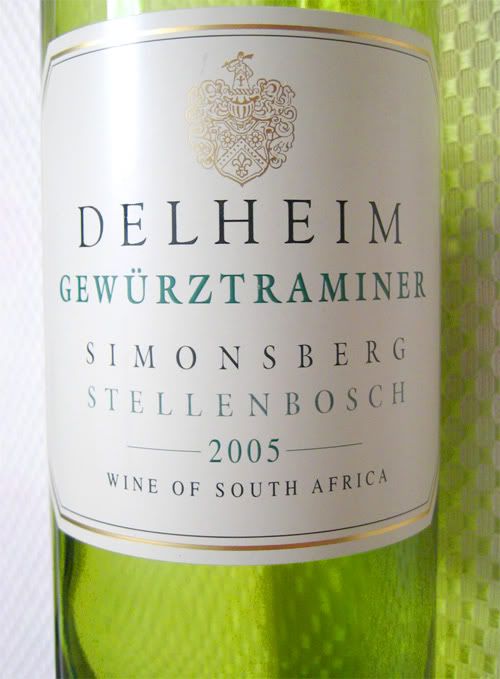 From Simonsberg, Stellenbosch, South Africa ($14)
I think I may have found a new QPR favorite! This gewurztraminer from Stellenbosch was fascinating. Clear yellow-gold. Lychee, honeysuckle, roses and noticeable minerality. Residual sugar (RS) was checked by acidity to lend the wine a semi-sweetness that felt more dry than sweet. Tingling in the mouth (not fizzy). Long 45 sec finish, with mandarin peel aftertaste. Medium-big bodied for a gewurz (14% alc.), yet its brightness and balance between acid, RS, fruitiness gave the wine some airiness.
I brought this bottle along to our favorite sushi restaurant in Studio City, and it was such a perfect match with the sushi and sashimi, and especially with the spicy ginger condiment!
4 stars (vg)
Additional Information from the winery's website.
100% Gewurztraminer grapes from 8 year-old vines. Grapes were harvested with the following analysis:

Sugar: 25ºB
pH: 3.80
Total acidity: 6.37 gram / litre

CELLAR REPORT : Crushing and destemming, followed by mashcooling and skin contact for 6 hours. The juice was left to settle overnight with pectolitic enzymes. Cold fermentation in steel tanks with the aid of selected yeast strains.

BOTTLING DATE : 30 March 2005
RELEASE DATE: April 2005