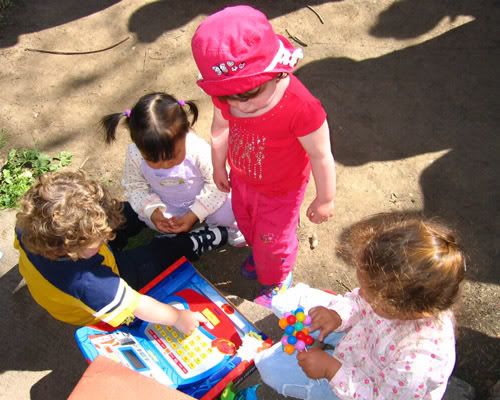 My weekend, as usual, revolved around my kid's activities. We were invited by our close family friends to their son's 2nd birthday party out in the park. The weather was glorious! It was a joy to see my little girl playing with other kids her age and enjoying the day to its fullest.

On the way home from the party, I stopped by a big box wine store in West L.A. (
Winehouse
) to pick up the 2 cases of 2003 Bordeaux clarets that I purchased as futures about 2-3 years ago. They have been laying in Winehouse's cellar under my name all these while since they were released.

Inside the store, seeing all those bottles of wine lined up like rows of vine was extremely tempting to me. But first, the liquor aisle. I have run out of a good sipper at home.

Ever since I read a recent article – I forgot in which publication – about the growing trend of maturing Scotch whisky in barrels that were previously used to age different types of wine in (e.g. Sauternes, Sherry, Port, Madeira, Rum, Burgundy, etc.), I have wanted to try a good one that was aged in a sherry barrel. If I am not mistaken, Scotch whisky is traditionally matured in ex-barrels of Bourbon whiskey to give a certain oomph and finish. I love a good Scotch, but my knowledge of it is rather rusty.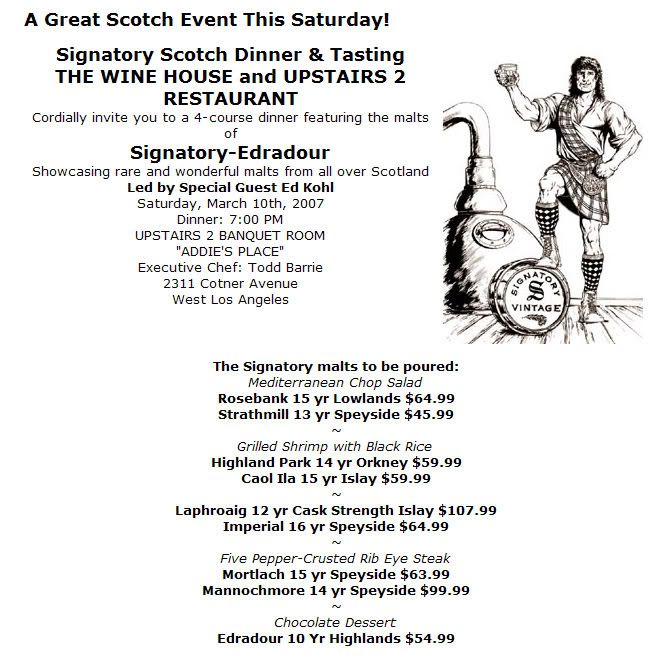 While browsing around in the whisky aisle, a guy named Tim, a Market Manager of a liquor distribution company called
Total Beverage Solution
, chatted me up. He was visiting the store that day to push his company's product line and promote an upcoming tasting event at the Winehouse (click inset on the right). Upon his inquiry, I said that I was interested in trying a sherry barrel-matured Scotch. He was more than happy to point to a bottle that his company represents: 1996 Signatory Edradour Unchillfiltered Highland 10 years Scotch. He also said that ex-sherry casks cost extensively more at $3,000 per barrel as compared with an ex-bourbon barrel, which costs only $150 per. Is that true? I'm not sure.

From Tim's description of the producer, Edradour is the smallest distillery in Scotland. Just by the salesman's words alone, this bottling sounds more artisan to me than the widely available Glenmorangie and Macallan. I decided to give it a try. It set me back $66.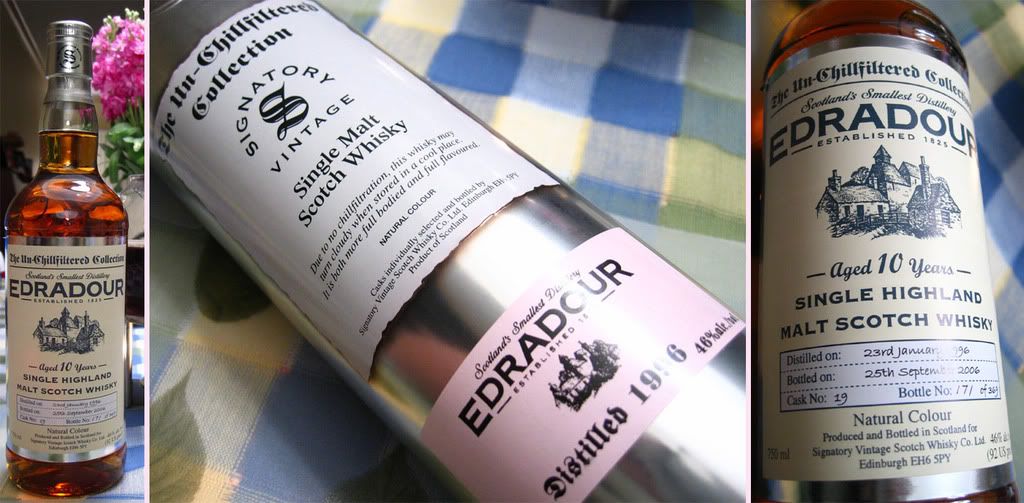 TN: 1996 Signatory Edradour Unchillfiltered, 10 years (46%)
Medium amber color. The nose is deeply sweet, like overripe yellow fruits, with some iodine and nuttiness. Spicy and woody. It's very silky...goes down smoothly like oil. Medium bodied. Finishes a touch acidic, fruity and caramel. This is an aperitif/digestif style. Enjoyed in a Riedel Vinum Cognac Hennessy tulip crystal with a spritz of mineral water added to 2oz of liquor.

On my way to the cashier, I tried to close my eyes as best I could to control the potential damage to my bank account. It didn't work. At the check out I ended up with the following:


2x 2005 Columbia Crest Merlot, Washington (a good, cheap merlot...goes well with burgers, pizza, marinara sauces)

1x 2003 Swanson Merlot, Oakville, Napa (my go-to CA merlot producer)

1x 2005 Dr. Loosen "L", Mosel-Saar-Ruwer, Riesling, Qba

1x 2005 Muller-Catoir Haardter Burgergarten, Pfalz, Riesling, Kabinett (from a respected estate)

1x 2004 Kurt Darting Durkheimer Nonnengarten, Pflaz, Riesling, Kabinett (need to try it out)

1x 2005 Joh Jos Christoffel Urziger Wurzgarten, Mosel-Saar-Ruwer, Riesling, Kabinett (one of my favorite Mosel estates)

1x 2005 Gunderloch Jean Baptiste, Rheinhessen, Riesling, Kabinett (an excellent everyday white)

1x Wild Turkey 101 Kentucky Bourbon (I love it…raises the hair on your chest, if you have any)

1x 1996 Signatory Edradour Highland 10 years Scotch (matured in Sherry casks…see TN above)

And the Bordeaux futures I picked up:

12x 2003 Ch. Gruaud Larose, Saint Julien (2nd Growth)

12x 2003 Ch. Pontet-Canet, Pauillac (5th Growth)

3x 2003 Ch. Lafaurie-Peyraguey Sauternes 375ml

There goes my tea and wine allowance for many months…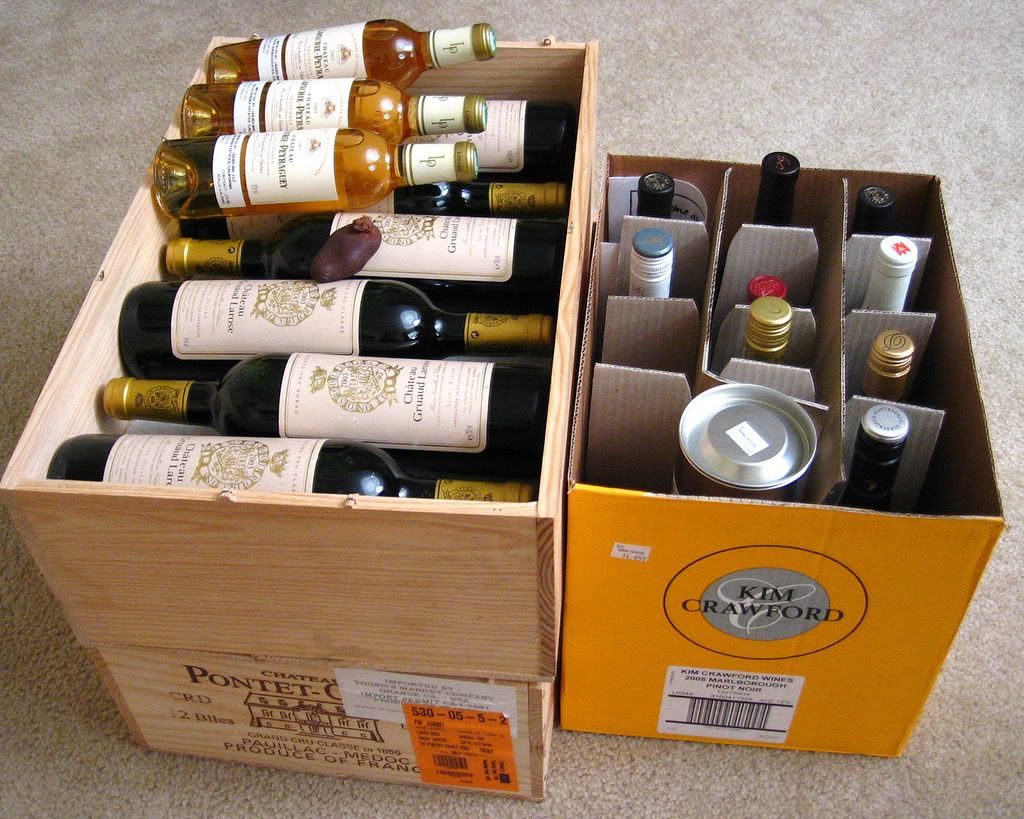 What have you been buying to satiate your tea and/or wine obsession?