As I turned left onto Beachwood Drive, I glared at the H-O-L-L-Y-W-O-O-D sign boldly emblazoned up on Mt. Lee dead ahead of me. A local landmark that I usually take for granted, that day it was being shoved in my face and it was quite a sight! It reminded that no matter where I came from, I am now a subject of this little kingdom…this Tinseltown. And our king-elect is Arnold Schwarzenegger.

But I am not about to bore you with such stories…I'd rather talk about our tea gathering.

Sunday last, I was invited by Danica (Dah-nee-tsa), a film producer and a serious teahead, to her charming home for some tea. Also joining us were Jonathan, Will, Louise, and Danica's black pug. The dog, judging by its color, is probably more of a coffee drinker. Did I just color-profiled Danica's puppy? Somebody sue me!

The camaraderie developed almost instantly. It's amazing to think how ol' Ms. Camellia sinensis can bring different people together. I always say that friendship is the healthiest thing that comes out of tea – good friends are probably going to make you live longer than that EGCG-XYZ anyway.
Right Photo (clockwise from left): Jonathan, Louise, Will, and Danica in charge of tea.


5 people, 1 dog, 4 solid hours, 6 teas, ~42 infusions, ~210 cups, no sweat!

1980's Zhong-Cha (Menghai) #7532 Xiao Huang Yin Sheng Pu'er
Source: Houde Fine Tea

Danica: Very strong tea, with great cha qi lasting many steeps. Forceful woody quality that is balanced by earth and forest, with some astringency. Surprisingly young feeling, although the leaves look aged and the liquor shows signs of age. Becomes floral at the 9th steep; would have continued but I ran out of desire.

Will: I liked it - maybe a little on the young / bitter side for my taste still. I'm a little hesitant to talk about teas having strong qi, but this one did seem to have a kick beyond just caffeine.

Phyll: I remember this tea as tasting quite young and green still for an 80's sheng. A lot of cha-qi and caffeine. The leaves are still quite young looking too, for a 20+ years old tea. I could feel myself feeling wired and tingly on my back after 4 cups or so. A lot of activity and taste there. This tea tastes like it's been stored dry and clean. 4 stars (vg).

1985 Chan's Tea House Sheng Pu'er Loose Leaves (stored for 20 years in Hongkong)
Source: Guangzhou

Phyll: Much older looking and tasting than the Xiao Huang Yin. Then again, I can say that this tea went through some mild wet storage period. The tea itself is earthy, woody, mellow and smooth. Not overly complex, yet there is something to be said about its subtleties. Calming and cooling, my body felt much better after this tea – it was like the XHY mentioned above created a fire and this loose sheng doused the fire. It is such a contrast to the 1980's XHY. I rated it 3 stars before, and I still think it's a 3 star.

Danica: Smooth liquor, comforting, with an earthy, mushroom note; possible wet storage or cooked (we didn't check the leaves!). Simple tea, easy to drink. Great for every day.

Will: This one was nice and mellow, in contrast to the other aged pu-erh. I liked it a lot. There was a weird flavor I couldn't quite put my finger on and certainly can't describe.

Highly Roasted "Monkey Picked" Tieguanyin
Source: Jing Tea of U.K.

Phyll: This tea has a wonderful aroma of nuts, caramel, honey, and various fruits. A complex tea overall, but the roast is (still) much too strong. Perhaps this was roasted fairly recently and it needs some resting time (months) to calm the fire. The charcoal aroma is too apparent. Otherwise, it is a wonderful tea. I loved it, despite. 3.5 stars (g – vg) due to too much charcoal. Otherwise it's 4 stars.

Danica: Very dark roasted appearance. The tea is strong and complex, dominated for the first 4 steeps by the roast. Leaves a wonderful caramel/ vanilla/ orchid/ complex scent in the cup that is quite revelatory. The caramel flavor begins to open up in later brews (I think it was #4); this could be in concert with the leaves opening in a very full teapot. Perhaps a longer brew time would also have given more flavor up front. Personally I found there to be a metallic note to the roast that reminded me of fuel, which may be a result of the charcoal. It made it less smooth and palatable for me. This note makes an otherwise 8.5 tea a 7.5 for me. Drinkable, interesting, but not perfect.

Will: This reminded me a lot of Stéphane's roasted high grade TGY (to be fair, that's the only other high-fire TGY I've tried). Slight differences, but the basic flavor is the same. I'm not sure which one I like better yet - maybe we should try a side-by-side. They both have a pretty strong taste of... I guess I'd call it caramel. The smell was very nice; Louise thought it had a bit of a sandalwood aroma. It looked a lot darker than the one in the picture I see on their site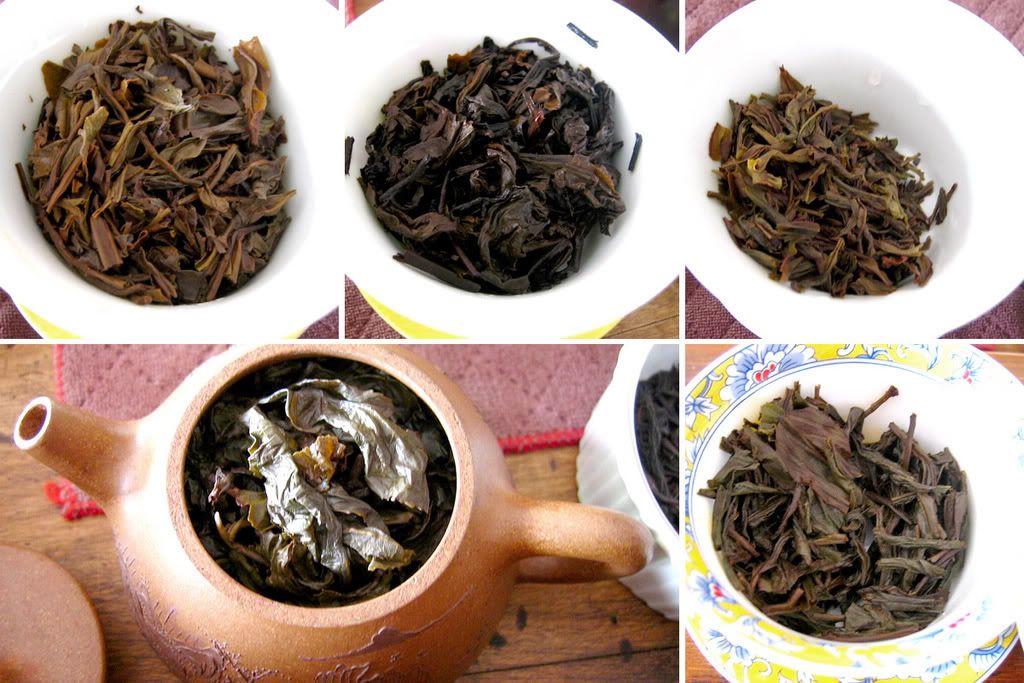 Clockwise from top left: 1980's Zhong Cha Xiao Huang Yin Pu'er, 1985 Sheng Pu'er, 2006 Milan Dancong, Song Zhong Dancong, Long-an Taiwanese oolong (pot). Not pictured: Monkey Picked TGY.
2005 Long-an Wood Roasted (Heavy Fire) Formosa Oolong
Source: Houde Fine Tea

Danica: Round and fruity scent of dry leaves, more roasted smell from dry leaf. This one brews up strong; it has a consistent, fruity flavor with a nice hint of roast. The roast is different from the monkey pick, it is less prominent and less complex, but the tea is clean and pleasant-tasting. Good durability--I got at least 7. After brewing the leaves showed some oxidization but were primarily a shiny dark green color, with some stems. I had it again and brewed it a little lighter; I think Will would have enjoyed it more.

Will: It's described on Houde's site as "heavy fire" (maybe for Taiwan), but I'd describe it more as a medium or low-medium roast based on the appearance of the wet leaf and the taste of the tea. As brewed, it was a little on the bitter side for my taste (though everyone else seemed to like it -- I'm just weak sauce). Memory is failing me in terms of other specifics right now.

Phyll: This tea is rather simple tasting with a pleasant woody – fruity aroma. Though regarded as "heavy fire" by the vendor, it is much less roasted tasting than the abovementioned Monkey Picked TGY. A nice change of pace after the TGY…the difference between a dark roasted oolong (with charcoal?) and a traditional Taiwanese wood-fired oolong is very clear when tasted one after another. 3 stars (g)

Spring 2006 Milan Xiang Dancong Oolong
Source: Jing Tea Shop of Guangzhou
Will: I like this tea... I feel like it's almost *too* accessible (like maybe I'd get sick of it if I drank it all the time) - the lychee taste is right there to the point where it's very fruity. I like to brew it withnot too much leaf so the bitter notes don't take over. It's very lightly oxidized, and the taste is very light. The wet leaves also have a strong lychee smell.
Danica: Really lovely fruity dancong tea, Will described it as a lychee or maybe passion fruit flavor. Brewed well with fewer leaves, there was hardly a hint of bitterness.

Phyll: This is simply lovely! It is highly perfumed with all sorts of yellow fruits and flowers, noticeably peach, apricot, and floral (orchids, as the name implies). The aromas are very upfront and expressive from the very first brew. If it were an opera singer, I would say it's a mezzo-soprano. Simply charming. Will used less leaves than I usually would brew my Dancong, and it came out very nice. 4 stars (vg).

Song Zhong Dancong (Highly Roasted)
Source: Best Tea House of Hong Kong

Phyll: The 2 previous times when I brewed this tea at home, I ended up with too strong a tea. So after witnessing that Will successfully brewed the Milan Dancong with less leaves, I decided to follow suit (about 1/4 full in a 100ml gaiwan). I think for this tea, it needed a little more leaves than the Milan Dancong, but less than what I used at home (1/2 of a gaiwan). It's a learning curve. Dancong is rather hard to get right.

A late bloomer. The first 3 or 4 cups were light and rather sleepy. Then it gradually opened up on the 5th brew, giving nice complexities. The perfume that comes off of the tea gave a warmer feeling than the Milan Dancong. Peachy, honey, and floral. Very good aftertaste. 4 stars (vg)
Danica: This was an interesting tea with a wonderful and special aftertaste. It was complex and floral with a fruity main note. I can imagine if it was brewed stronger it would be extraordinary.

Will: This was very nice. Would have been nice to try it without knowing exactly what it was, since this tea's reputation precedes it. That said, I thought it was very nice. Similar notes to the Milan Dancong from Jing (lychee, peach), but a little less up front (I think Phyll made that point), more complex, and with a great lasting finish. You hear people talk about teas with a good finish / aftertaste, but this one really had a lot going on there. I'm glad we didn't skip this one, especially to taste right after the Jing one. Despite being fairly high-fired, the tea didn't have a strong oasted taste.
We are planning to meet again in a few weeks time, and hopefully Imen and Nick can join us.