[Another quite long post]

No one wore Native American costumes. Nonetheless, with the amount of tea that got "dispatched", March 11, 2007 might as well be remembered as The Los Angeles Tea Party. That Saturday, six LA tea aficionados met at Will's place for some very serious tea drinking. I (Phyll) was supposed to be there, and in the end I was only able to attend in spirit due to an unforseen circumstance.

The following is the account of the day by

Danica

and

Will

:


It was a hot hazy day in Los Angeles as we made our way to one of the city's trendiest and coolest neighborhoods, Echo Park. Taking Sunset or a very crowded freeway through the colorful neighborhood of exotic crafts and trendy fashion, we made our way into the hills where we found Will's apartment tucked away in a cute mid-last-century apartment complex.

We were greeted by Will's fluffy calico cat, Scarlett, who made sure to keep us company while we drank tea, and entertained us by jumping on the roof of a shed next door to show her climbing prowess. Will and Louise served delicious dim sum, which as a raw food eater wasn't quite my cup of tea, but Jonathan had many mouthfuls and enjoyed himself. Luckily for me, the two plus liters of tea we were about to drink did not have a negative effect on my stomach.

There was an energy in the room that suggested something bigger than just a gathering of tea lovers. As Jonathan put it, "This feels like a Tea Happening."

The interesting thing that this Tea Happening dared to try is a big group tasting. I had heard in the past that tea is best drunk in small numbers: one for contemplation, two for friendship, three for conversation, and four for fun, but more becomes a distraction and even a dilution of the experience. At our first tasting, Will, Phyll and I were the devotees, but now Jonathan and Louise were fully on the tea bandwagon, plus Imen and Nick were to join us.

Being a lover of what I read in books (and the advice given to me by sage tea friends), I even suggested that we break up into two groups. The group was adamant that we drink together, so this was not just an ordinary tea tasting. were going to dare a simultanous tasting with six people. The results were surprising.

Four of us took turns brewing the tea: Will, Danica, Imen, and Nick. We learned from each other's brewing techniques. It was interesting how varied each person's techniques were: Will casually measured amounts into his gaiwan but used carefully heated water to produce tasty infusions; Imen blasted her leaves with boiling water, tasting the rinse water, then did short, incredibly flavorful infusions; Nick poured directly into his pot to get a strong vegetal high mountain flavor; and Danica was very careful in how she poured the water, brewing strong infusions of tea (frankly I've gone over to Imen's style as I really dig the layers of complexity that it evokes).


Conversation was tea related and fun, but we also did some serious evaluation of teas. It was interesting to see how different people's perceptions were, and how we could affect and learn from each other. Nick learned to drink tea in Taiwan, and he and Imen had fun reading the chinese characters on the tea bags. Danica liked to use a lot of leaves for almost
espresso-like flavor. Will was a little bit competitive but up for a good time. Jonathan and Louise had distinct and strong opinions about the teas. It was a great group!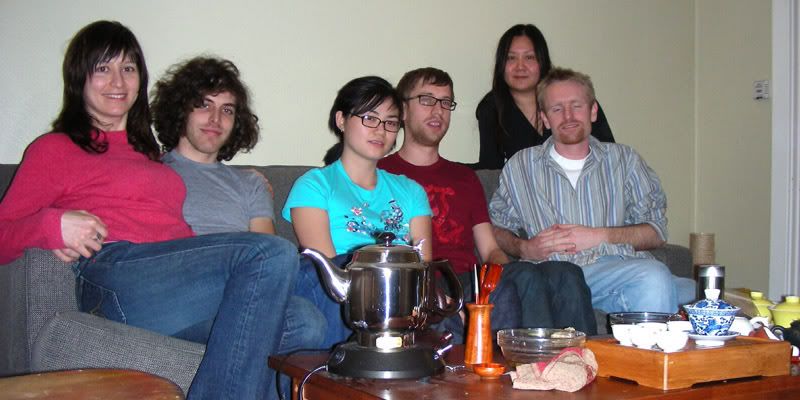 Left to right: Danica, Jonathan, Louise, Will, Imen and Nick
The tasting moved along at a leisurely pace, lasting from around 2 PM to just after 7 PM. We had some snacks (mostly northern Chinese breakfast foods from Yi-Mei in Monterey Park - vegetarian Fan Tuan (chinese doughnuts with preserved cabbage, nuts and rice wrapped around them), mung bean pastries, and lu dou gao (mung bean tea-cakes), By the end of the evening, my hands were a little shaky from all the caffeine.

We brewed mostly in large 6-7 oz gaiwans, as well as a few smaller teapots. We used my little ~
1 oz cups, so surprisingly, even the small ~ 4 oz teapots seemed to make enough tea for everyone. We probably did at least 5-7 infusions for each tea, so maybe 50-80 oz of tea each.
---
TASTING NOTES
TEAS:
1) Roasted TGY (Tea Gallery) - Will
2) Bai Hao (ITC) - Will
3) Qi Dan Da Hong Pao (Golden Tea House) - Danica
4) Bai Ji Guang (Tea Gallery) - Will
5) Bai Sui Xiang (Golden Tea House) - Danica
6) Milan Dancong (Wing Hop Fung) - Imen
7) He Huan Shan High Mountain Oolong (2k-3k meters) (somewhere in Taiwan) - Nick
8) Rou Gui (Golden Tea House) - Danica
9) "88" dry stored Ching-Beeng #7542 (circa 1989) (Hou De) - Will
10) Mystery Menghai ~ 20 yr old sheng / shou mix (Nick's friend) - Nick, brewed by Imen
11) Song Zhong Dancong (Tea Gallery) - Will
12) '05 Song Zhong Dancong (from China via Imen) - Imen

Houde Fine Tea (Houston, TX): www.houdeasianart.com
Imperial Tea Court (SF): www.imperialtea.com
Tea Gallery (NYC): www.theteagallery.com
The Golden Tea House (Canada): www.goldenteahouse.com
Wing Hop Fung (LA): www.winghopfung.com
1) Roasted TGY

Will: I like this pretty well. The early infusions (which I drank early in the morning before anyone got there) still have a tiny bit of a grassy (or something) taste, but it's smooth and isn't too aggressively roasted. Brewed in my ~ 3oz Yixing Factory #1 shui ping pot which I not only copied from Phyll, but also copied his choice of teas for.... it seems like a good shape for roasted TGY. We were already on the later steeps (probably at least #6 or 7) by the time people got to my house.

2) Bai Hao

Will: I like this tea (my first "Oriental Beauty", so not much basis for comparison)... though it reminds me of that "tea" taste (like a black / red tea taste) I remember from occasional sips of tea when I was young (teabag tea), only better and with a delicate sweet overtone. Imen said she would like it brewed a bit lighter and that it would be more of the sweet flavor then; maybe I'll try it with less leaf next time I make it. The wet leaves are beautiful - very small buds.

3) Qi Dan Da Hong Pao

Will: Not super high fire, but not that really aggressive "young" taste either. It had a beautiful honey taste that wasn't like the taste people call honey in other teas (TGY / Dancong etc.) - it was like an actual sweet honey taste or something, and if I remember correctly, the smell was very nice too. Pretty smooth. Not at all what I think of when I think of Da Hong Pao. I liked it, and I'd like to try this one again sometime.

4) Bai Ji Guan (White Rooster)

Danica: The dry leaves smelled like clean water and some vanilla and cream. The brew had strong notes of vanilla and orchid in the first few brews, becoming creamier later. Some of us were reminded of taiwanese oolongs by its flavor.
Will: When I ordered stuff from Tea Gallery, I had them send me a couple samples, and I let them include something they thought was particularly good. It seemed serendipitous that they sent a low fired Wu Yi tea when we were looking for something like that to drink at our tasting, and that it arrived the day before. My memory is kind of blank in this part of the tasting. This was my first time brewing this tea. Maybe I'll brew some more and come up with notes. I think it was pretty good and that people liked it.
5) Bai Sui Xiang (100 Years Fragrant)
Photo: Left, Bai Ji Guan; Right, Bai Sui Xiang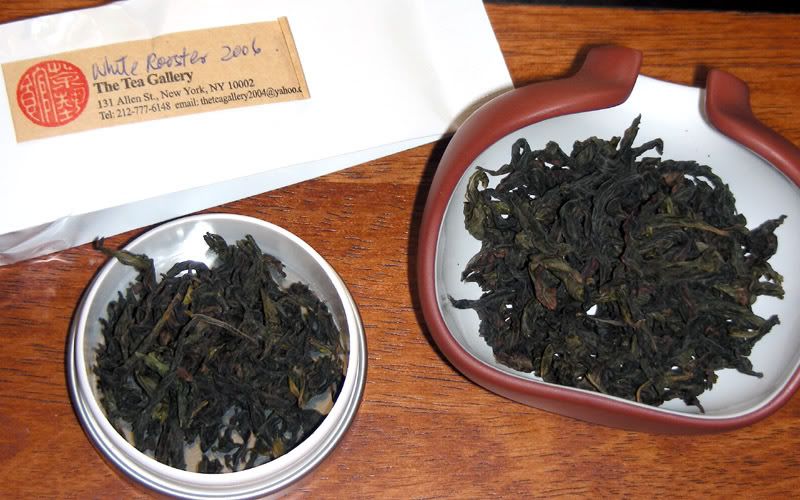 Danica: Louise or Imen said the flavor reminded them of vegetable soup. It has a very grassy, vegetal flavor with notes of hay. I later brewed it much lighter, per Imen's recommendation, and got the same grassiness but with more floral overtones.
Will: At first, we thought this was another Bai Ji Guang we had some interesting discussions about the correct Chinese name)... and the dry leaves were very similar in smell / appearance. This one was very grassy and kind of unpleasant at first. However, the later infusions (after the leaves opened up a bit) were better, brewed a littler stronger. Still, not really one of my favorites.
6) Milan Dancong
Danica: A very strong-roasted tea. This one had tremendous honey fruit floral flavor that lasted for many brews. It wasn't complex like the Song Zhong dancong but it was an excellent tea.
Will: I'm suffering from dancong overload what with this week and last week... this one was pretty nice - though I liked the ones we tried later a little more. Maybe a little less in your face fruity than some of the other ones, more of what Imen described as a "honey" flavor.
7) High Mountain
Danica: A vegetal, green, masculine high mountain tea. Nick brewed it strong. It wasn't as complex as some high mountain teas I've had but it opened up in the fourth steep and gave some floral notes.
Will: I don't really like this style of tea. I've had some really nice quality teas of this variety (including this one), and I just really don't care for them, for the most part. I liked the later, longer, stronger steeps better, but still not really my cup of tea (hah). Seemed to work pretty well in a ~ 4oz zhuni pear pot - and surprisingly, there was enough for all of us still.
8) Premium Rou Gui
Danica: This is an unusual tea that drew my attention for its smoky, sweet, caramelly flavor. It's a well composed, if unusual, interpretation of a traditional Wu Yi tea.
Will: I didn't quite know what to make of this tea. I didn't dislike it, but I don't know how to describe the taste in words - the smoky taste is different from the other smoky teas I've had. It reminded me of Spanish paprika (which has a smoked flavor) - not the paprika taste itself, but the smoky overtones. Smoky without being burned or charred. I didn't really taste the sweet / caramel taste that Imen and Danica tasted - maybe just a touch of it in the aftertaste. I think I'd have to try it another time or two, and maybe brew it myself, to decide how I feel about it.
9) 88 Ching Beeng Pu'er
Will: I was sad that Phyll wasn't here to try this one, since he didn't like the one he tried. I tried this sample from Guang twice, and while I don't have a lot of experience with aged pu'erh, I like the taste. It's hard to describe, but mellow. I should note that by this point, my hands were starting to shake a little when moving the gaiwan lid. We went a bunch of rounds with this one, and could have probably gone on for quite a while.
Danica: This tea had an 'off' rinse steep, which Imen and the rest of us rejected on the basis of an unpleasant earthy flavor. The subsequent steeps were rich, flavorful, woody, earthy, with hints of fruit moving to sweet in later infusions. I think we went 8 or 9 with this one, primarily because I kept insisting we keep going. It was a great tea.
Phyll: Click here for my tasting note of this tea

10) Menghai mixed pu-erh
Danica: This tea was very mellow and easy to drink, with signs of good aging. You could taste the cooked, but the tea was powerful and Imen felt it could keep going for at least 20 infusions. In truth, cooked puerh is not usually my cup of tea, but this was quite easy to drink.
Will: Well I'm kind of proud of myself for suggesting that maybe it was a sheng / shou mix, since I guess that's what it turned out to be. We didn't think it was quite an aged sheng pu'erh, but it wasn't super heavily "cooked" either. Without knowing much about the tea or its origins (maybe a good thing), and without a ton of experience with pu'erh, I liked it. Smooth, earthy. The first brews had maybe a bit of a watery taste or feel, but towards the end it started getting nice and dark. I think we did at least 6-7 rounds. We could have brewed this one for a bunch more rounds also.
11) Song Zhong Dancong (Tea Gallery's)
Will: We probably could have stopped before here, but I thought it might be nice to end up back where we started - on a "sweet" note. After tasting the BTH Song Zhong Dancong, I thought their former students at Tea Gallery might have something similar with theirs. However this one (so far) to me doesn't seem anywhere near as complex. It's closer to the Milan Dancong from Jing that I brewed last time. Lots of lychee or maybe peach notes. The dry leaves look more highly roasted, but it's still pretty light and fruity. It's very nice and all that, and does get more complex after the leaves open more (and of course I may still learn to brew it better), but to me, it's not quite as good. Anyway, it's good, and cheaper than the BTH stuff (though more expensive than the Jing Milan Dancong) - just didn't completely blow me away. Probably if I hadn't had so much Dancong in the past few weeks, I'd like it more.
Danica: Very up-front fruity characteristics that developed more complexity with later brews. As Phyll noted in our other tasting, sometimes the Song Zhong Dancong takes a while to open up and get going. This one did around the fourth brew and was quite nice, although not as exceptional in aftertaste as the tea Phyll brought last week.

12) Song Zhong Dancong (From China)
Danica: for a tea from 2004 stored double bagged in a freezer we got tremendous flavor. Fruity and what could be called 'haunting' in the aftertaste, it really was 'wow' in the later (7th or 8th?) steeps, with an excellent kick. However it gave up its flavor soon after, which Imen attributed to the fact that we weren't using enough leaves.
Will: This was a nice one to end up on. Similar to the previous one, maybe a bit smoother and nicer. Someone said the leaves smelled like strawberries after they went into the hot gaiwan, and I kind of agree... maybe a little hint of this in the rinse and first steep or two as well. I have a hard time describing the mix of tastes in the later brews.