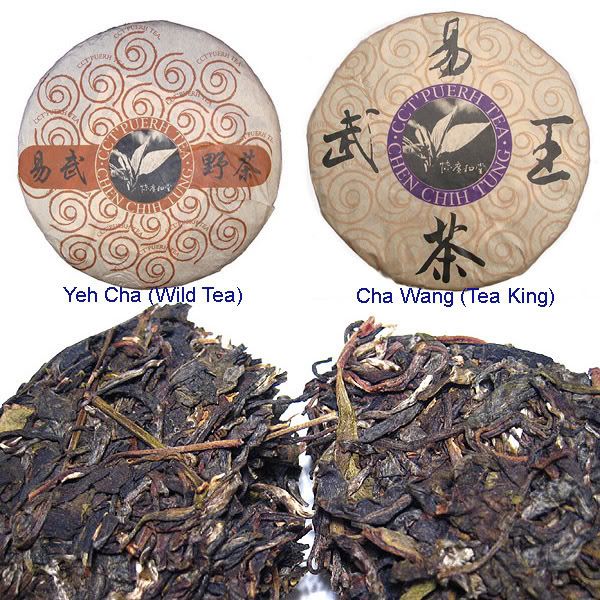 Mr. Chen Chih Tung is a renowned tea personality, a rock star in the Asian world of Pu'er. He is, after all, the author of the authoritative compendium on Pu'er titled "The Profound World of Chi-Tse", and he has collaborated with various big name pu'er producers. Some of the teas that bear his validation (through his personal supervision of the production process) are the Chang Tai South East Asian Puerh Trade Memorial Cake series and, more recently, his own Chen Guang-He Tang Yiwu series (autumn harvest).

When a tea bears his name or is associated with him, you have to think that the product is as good as it gets.

Several enthusiasts got together online and exchanged honest opinion on the two 2006 Chen Guang - He Tang teas that recently became available in the U.S. through Houde Fine Tea. Click here to read other participants' tasting notes posted on LJ Puerh Community (lots of pictures).

Tasting Notes

2006 Chen Guang-He Tang "Yeh Cha" ("Wild Tea")

Parameter: just boiled water, filled gaiwan 1/3 full of dry leaves, flash rinse, then 15s, 10s, 15s, 25s, 30s, 45s...

Seaweed, green vegies and salty plums from the wet leaves. The tea itself is rather thin and monotone. The chaqi is weak and the aftertaste is uninspiring. Nothing interesting about it in the mouth. Liquor is rather cloudy. Weak, dusty tannin for such a young tea. I have my doubts in this tea's ability to age well. Boring overall.

1 star (not good, not bad)



2006 Chen Guang-He Tang "Cha Wang" ("Tea King")

Parameter: just boiled water, filled gaiwan 1/3 full of dry leaves, flash rinse, then 15s, 15s, 15s, 25s, 30s, 45s, 1m, 1.5m, 2m,...

Quite the opposite of the Yeh Cha. This tea is complex with overtones of yellow fruits, sweet plums and some smokiness. I particularly like the conservative amount of smoke in this tea that blends well with the overall fruity characteristics. Lively in the mouth with lots of infusions to offer (I had 8 before stopping, but the tea still could go for more). Good chaqi, full mouthfeel and with an aftertaste that persists. Abundant fine dusty tannin (this should be a good backbone for aging). The mellow complexity of the Yiwu shines through quite prettily in this tea. It should be interesting to find out how it ages, and it has a lot of potential given how it is today.

4+ stars (vg+)



The difference between the two teas, taste-wise, is quite significant, in my humble opinion. It is hard to differentiate their quality just by looking at the dry leaves alone -- both look almost identical. The Cha Wang does have more leaves that are covered with white fur than the Yeh Cha version. Both teas are nicely compressed (not too loose, not too tight).
[Photo: discs (top) by
Houde Fine Tea
; tea leaves (bottom) by Phyll Sheng]